Passivhaus is known as the world's leading energy efficiency standard for buildings. It drives building energy consumption down as much as 90% compared to code requirements.
Passivhaus requires that the whole delivery team pay very close attention to how a building is designed, detailed and constructed. Energy must be used efficiently and not wasted. Very detailed energy and performance modeling must be carried out using the PHPP during the design process.
This can seem complicated and technical, on top of all the other challenges of being an Architect. So why not leave it to the 'sustainability experts' who love this kind of thing?
It is true, Passivhaus does take effort. It's simple but not easy. However, Passivhaus offers important opportunities for architects.
Here are three reasons you should get into Passivhaus: Climate Change, legislation, and to make a difference.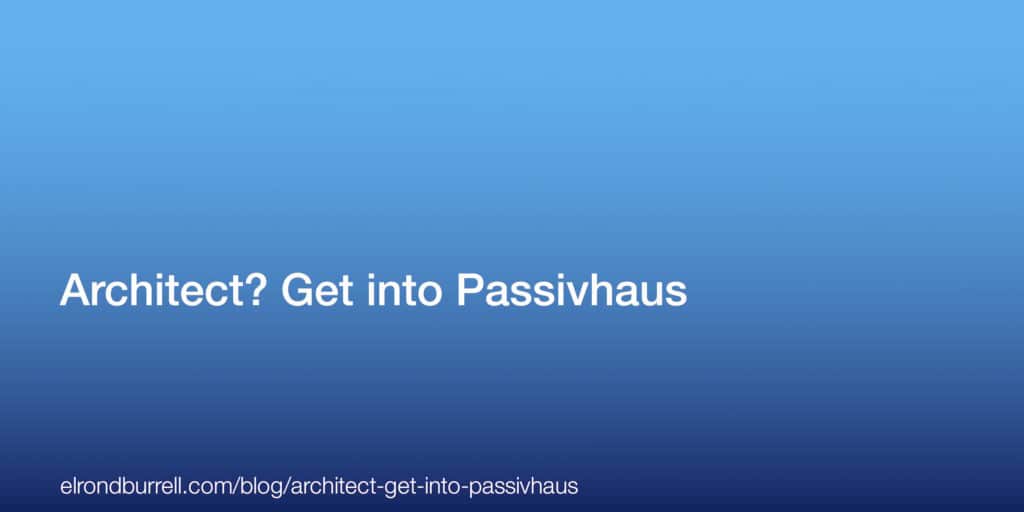 Get into Passivhaus: Impact climate change
Climate change is the major issue that we have to contend with today. And it can't be shrugged off as 'just an environmental issue'. It is a resilience issue, a livelihood issue, most definitely an enormous economic issue, and potentially a survival-of-the-species issue. There's no denying that rapidly rising CO2 levels and anthropogenic climate change, along with everything else that comes with it, is happening now. How we respond to climate change today is critical. And this includes the built environment and building design.
Buildings play a significant global role when it comes to climate change. Around 40% of our CO2 emissions come from constructing and operating buildings. This means that in the design & construction industry we have a fantastic opportunity to make a meaningful and positive impact. Passivhaus can reduce the energy consumption of buildings by 70-90%. This in turn radically cuts CO2 emissions.
Passivhaus provides a means for architects to positively impact climate change.
Get into Passivhaus and keep ahead of legislation
Addressing climate change can seem just too overwhelming and abstract. 175 countries have signed up to the Paris agreement. This is a commitment to limit climate change to a global increase in temperature "well below 2°C". Bringing the focus to a more tangible goal and recognising that 40% of the CO2 emissions come from buildings, the EU has drawn up the "Energy Performance of Buildings Directive". This legislation sets out how buildings across the whole of the EU (including the UK) need to perform in the very near future.
The critical bit to know about is the requirement that all public buildings (owned by the central or local government) must be "near Zero Energy Buildings" (nZEB) after 2018 and all buildings are to be "near Zero Energy Buildings" after 2020. So what is an nZEB? The directive says an nZEB is:
…a building that has a very high energy performance. The nearly zero or very low amount of energy required should be covered to a very significant extent by energy from renewable sources, including energy from renewable sources produced on-site or nearby. [Source]
It's not just the EU, though. Many other countries around the world are bringing forward legislation for 'zero-energy' buildings.
Whether the goal is an nZEB or a 'net-zero' building, the first priority is to reduce energy consumption to a practical minimum. After this is achieved, the next step is to generate the remaining energy needs from renewable sources. Some countries, regions, and cities recognise that the international Passivhaus Standard is a trusted and effective way to achieve this. These places are enacting legislation to support, or require, that Passivhaus be implemented.
Passivhaus is a robust basis for Architects to deliver nZEBs and 'net-zero' buildings.
Get into Passivhaus: You can make a difference
Returning to climate change, as I mentioned above, the issue is huge. It's often just too big to come to terms with in a meaningful way. The easiest reaction is to ignore it and carry on as usual. Or perhaps we make a few minor adjustments to our lifestyle to ease our guilt and concerns. But, it's not enough, we need something tangible that we can do. We need something that we know will make a difference.
This is what Passivhaus offers.
The international Passivhaus Standard has a 25-year track record of delivering buildings that radically reduce energy consumption. It is a standard that works and that we can trust. With Passivhaus, we know we can deliver nZEBs or net-zero, today.
Designing and constructing Passivhaus buildings does take effort and attention. It is a very simple and clear performance standard with a rigorous methodology. You have to do the work. However, it's not just any work, it is meaningful work. You can bring your passion and enthusiasm to your work knowing you are making a difference.
You can be confident: Passivhaus makes a difference, what you do counts.
With Passivhaus, you can reliably deliver buildings that consume as little as just 10% of the energy that comparable code-minimum buildings consume. You can be sure that you are making a very tangible positive impact on the built environment, and in turn on the wider environment. You are helping to safeguard the climate and world we live in, the world our children and grandchildren are inheriting.
And building owners and users love buildings that perform as predicted, or better, and are exceptionally comfortable all year round – everyone wins.
Make a difference with the work you do: get into Passivhaus
Architect? Stop talking, start delivering Passivhaus
Climate change is a massive issue. In the construction industry, we have a fantastic opportunity to positively impact climate change. Architecture must change. Passivhaus enables the whole industry to act on this opportunity, right now.
Legislation will soon force us all to design and deliver significantly more energy efficient buildings. Architects have an opportunity to show leadership before this happens.
Take the reins.
Now is the time to change the way you design and deliver buildings. Now is the time for Passivhaus buildings. Not just houses either, all buildings.
The international Passivhaus Standard gives you the tools to make a tangible difference. There is no need to be a 'sustainability expert'. You can do meaningful work as an architect and know that it has a direct and positive impact on the world today and for the future. You can bring your passion and enthusiasm into your work knowing you are making a genuine difference to climate change.
You can take pride in making a positive difference through your work.
And the time to start is now. Get into Passivhaus.
As an architect, I want to change the world for the better, by changing architecture. Please join me in this mission. Not sure where to start? Educate yourself –
Spread the word: please send this article to your friends and colleagues and share it on your favourite social media channel.
Enter your email at this link to subscribe. You'll be notified of each new post and receive exclusive Passivhaus insights (not published on the blog) every other week direct to your inbox.