PHPP: Passivhaus Software
I am pleased to offer PHPP and DesignPH – the Passivhaus modelling and verification software tools – for sale as a distributer on behalf of the Passive House Institute.
The PHPP (Passive House Planning Package) software is the design tool used by architects and energy consultants for designing Passivhaus and low-energy buildings. The PHPP software is a reliability and accurate software tool following decades of development and verification with dynamic simulation and real-world monitoring of completed Passivhaus buildings.
For more detailed information about the PHPP software, please visit the Passive House Institute's PHPP page.

PHPP: System requirements and license type
The PHPP is based on an MS Excel workbook in the xlsx/xlsm format. Microsoft Windows XP (or higher) and Microsoft Excel 2007 (or higher) are system requirements. On Macintosh, PHPP works with Excel for Mac 2011 (or higher). As far as the authors (PHI) are aware, the PHPP can also be used with current versions of OpenOffice or LibreOffice. However, depending on the platforms used and their programming, there may be limited functionality of the calculation tool or the implemented macro tools.
PHPP is only provided as single-user license, including a detailed manual. With the license, the PHPP user obtains a registration code which is used to register the PHPP license. Based on this registration, the user will receive updates of the calculation tool, or upgrade discounts for new versions of PHPP or designPH.
designPH: 3D data entry tool for the PHPP
designPH is a plugin for the well-known 3d modelling software SketchUP. You can model your project in SketchUP (or import it from other CAD software) to have a 3D display of the building envelope. Passivhaus certified components such as windows are directly available as SketchUP components within the software. The plugin carries out automatic analysis and simplified calculation of the heating demand which is reported in a Passivhaus dashboard within SketchUP. You can carry out 3D editing and optimisation of the building design while simultaneously keeping track of the performance. The building envelope geometry along with windows and shading data can be exported to the PHPP. Further details can be found at designPH.org along with designPH system requirements.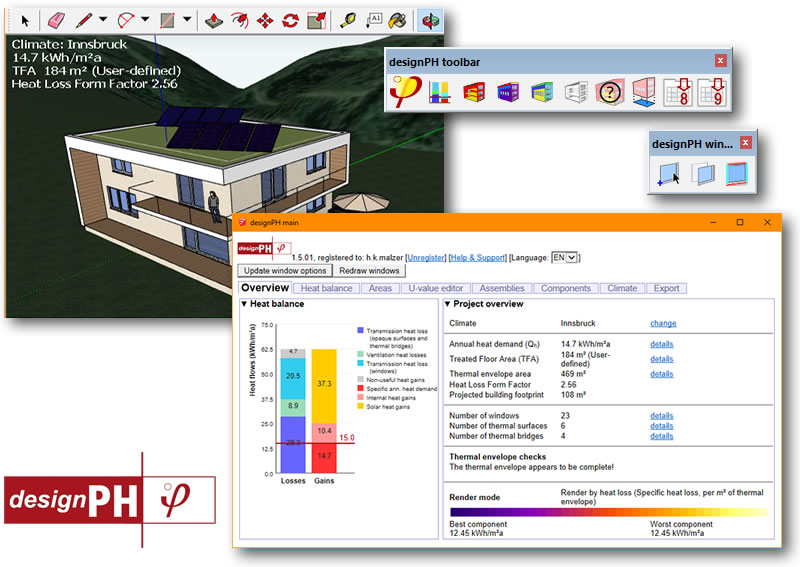 PHPP: Prices
PHPP v9: NZD $290.00 + shipping & handling
PHPP v9 + designPH 1.5: NZD $575.00 + shipping & handling
designPH is only sold in a bundle with PHPP or to current PHPP license holders.
The above prices are exclusive of NZ's Goods & Services Tax (GST). GST is charged at the current rate for sales within NZ, no GST is charged on export sales.
A discount is available for members of the iPHA, students and when upgrading from a previous version.
To order a copy or check a discount price please email me or contact me through VIA architecture.
---
Please note we only sell the English language Metric version of the PHPP software. If you'd like to purchase it in a different language or the American IP units version you can find an appropriate distributor here.
Interested in learning about the Passivhaus Planning Package (PHPP)? You can read more at:
SaveSave
SaveSave
SaveSave
SaveSaveSaveSave
SaveSave
SaveSave
SaveSave