A passivhaus home in almost all climates across the world will include a mechanical ventilation system with heat recovery (MVHR*). This kind of ventilation system is required for both energy efficiency and for comfort. However, to many people this is an intimidating and misunderstood aspect of passivhaus. As a result, there are various concerns and misconceptions about what a passivhaus ventilation system is and how you use it.
To address some of these issues I have enlisted the help of Zehnder, a global supplier of Passivhaus Certified ventilation systems. In this post, we explore the following aspects of a residential passivhaus ventilation system:
How do I control the ventilation system?
What day-to-day interaction do I need to have with the ventilation system?
What is the boost function and when should I use it?
When should I switch the ventilation system off?
Rupert Kazlauciunas, Senior Technical Advisor at Zehnder Group UK, very kindly provided answers to my questions
In a residential passivhaus, the ventilation system can be simple to use. It will save energy and money, while ensuring comfort and excellent indoor air quality.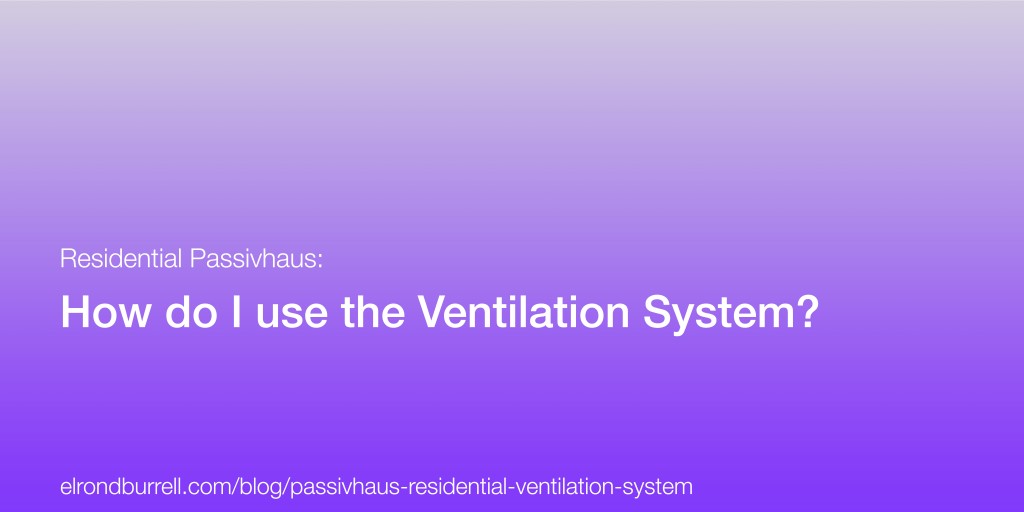 Don't be intimidated by the ventilation system
Before getting into my specific questions, Rupert wanted to reassure me that one reason why a passivhaus ventilation system might seem intimidating is simply because it is new to most people.
Remember the time when you felt intimidated by using modern day central heating controls? No, neither do I but I'm sure this was the case for many homeowners when they were first introduced way back in the day and radiators weren't yet common in every home.
This is an important point, just as we have got used to central heating (in the UK at least), we will also get used to MVHR in time. We might never understand all the intricate details of the system, but that won't stop us using it effectively to suit our needs.
1. How do I control the ventilation system?
Essentially a passivhaus ventilation system has 4 settings:
0 – Off,
1 – Low-speed,
2 – Medium-speed, and
3 – Boost
These refer to the speed that the system runs at, the faster it runs the more fresh air is supplied. Low speed (1) is for background ventilation, medium speed (2) is for everyday use when you are around the house, and Boost (3) is for when you are cooking, taking a shower, or having a party and need more fresh air!
Rupert explained that there are several options when it comes to controlling these settings for the ventilation system. These range from manual switches through to LCD display panels with sophisticated functions. While a manual switch option might be the simplest approach, it seems that LCD display panels are most popular.
One of the most popular LCD display controls we provide and recommend at Zehnder is the ComfoControl Luxe (CCL) – a contemporary touch screen controller with a seven day programmer featuring a graphical user interface.
No doubt people enjoy being able to interact with the system using the LCD display and having the ability to programme the system. I wasn't sure this would be necessary though and asked why I would want to programme my ventilation system. Wouldn't I just set it going and ignore it? Rupert explained the advantages of the programmable feature and how it might be used:
The 7-Day Programmer is similar to using a central heating system so it is simple to use. It can be set to suit the 7-day schedule of the occupant so residents may wish to programme the settings depending on when they are in and out of the house, when they sleep, when they get up etc. (much like you would set your heating programme). An example of this would be that perhaps they would set the speed at number 1 for the night when they sleep, then switch to speed 2 for when they get up, speed 1 for when they are out at work, speed 3 just before they come home so that the house is nice and fresh for their arrival and then back down to 1 for bedtime. This could be different for the weekend when they may be in the house all day so maybe it would run at 2 throughout the day during the weekend.
Even with a programme set up to match your weekly schedule, there is still the option to manually override it whenever you need to.
The simple alternative of manual switches would need a main switch by the ventilation unit. You may also have further switches in locations where you want to override the main setting. For example, you may want a switch in the bathroom so you can set it to boost when you have a shower. Or in the bedroom to switch it to low speed while you sleep.
2. What day-to-day interaction do I need to have with the ventilation system?
None whatsoever. Really? Well, if you have a 7-day programmer and programme it correctly, then yes, you wouldn't need to touch it again until you wanted to alter the programme. (Just like my central heating, which I don't interact with at all once I've programmed the times I want it on during the heating season.) It would also need to be linked to sensors for automatic boost when needed in the kitchen and bathroom. You may occasionally hit boost manually but that would probably be it.
With a manual switch system, you could also set it running at speed 2 and just ignore it, except for when boost is needed. However, you may wish to alter the speed up or down in response to activities in the house. It would be just the same as switching lights on and off when needed though – nothing complicated.
3. What is the boost function and when should I use it?
As mentioned already, the boost function increases the speed of the system and, therefore, the amount of fresh air that gets supplied. So if you're cooking up a banquet or hosting a party, you will definitely want to have the boost on! Rupert explains in a bit more detail:
For automatic controls, the boost function will kick in spontaneously thanks to the sensors (no need to think any more about it!). For manual controls, residents will need to consider using the boost function when the air quality is likely to be compromised or there is an increase in humidity levels – for example, using an oven or running a bath. Think of it in the same way as turning on an extractor hood, but instead you are pressing boost.
So here is another simple and familiar analogy, the boost function is a bit like a cooker extract hood or a bathroom extractor fan. Easy!
4. When should I switch the ventilation system off?
It's no secret that a mechanical ventilation system does use electricity. There are typically two slow-moving fans in an MVHR unit. And although it does use electricity, it doesn't use very much. Nevertheless, with a view towards saving energy, are there times when it is best to switch the ventilation system off? It seems not. Rupert first reminded me of the important health benefits that the ventilation system provides:
It is important to remember that the MVHR ventilation removes VOCs and moisture. Fresh filtered air and good air movement also prevents mould growth so the MVHR should not be switched off.
He then emphasised that it should only be switched off for maintenance purposes:
It is only necessary to switch off the MVHR for general maintenance purposes. Maintenance of the unit will usually include changing filters, cleaning the ducts, cleaning the heat exchanger and cleaning the motor, although only the filters would require regular maintenance.
Some aspects of maintenance you could do yourself, for example changing filters, the rest you would need a suitable maintenance engineer to carry out.
Even despite this answer, I was curious about summer. When I would have windows and doors open frequently, should I still keep the ventilation system running? Rupert confirmed that it still is best to keep the ventilation system running and explained why:
During summer the MVHR will bypass the heat exchanger. This means if the air inside the house is 30°C but it is 25°C outside, the unit will bring in the cooler air from outside and extract the warmer air from inside thus cooling the house. Therefore, you shouldn't turn off the MVHR and you don't have to open windows! In addition to this the supply air will be filtered so if you have allergies such as hay fever you will continue to get fresh air from outside without the negative side effects.
Taking note of this, it is important to ensure that the MVHR unit does have a summer bypass mode, not all include it. Of course, you can still open windows if you want to, but as Rupert says, you don't need to. And if you suffer from hay fever, then living in a passivhaus home may bring you sweet relief!
Finally, what about when you go on holiday and there is no one in the house for a week or more? Some MVHR units have a useful function just for this type of situation:
With Zehnder's luxury units there is an 'absent mode', which means the unit will run at 15% motor speed and continue ventilating the property. So if occupants were to go on holiday for an extended period they could set it to this mode and return to a fresh, well-ventilated home while only consuming a small amount of energy.
If the MVHR doesn't have this function, then the options are to leave it running on low-speed or to switch it off. If you do switch the MVHR off while you're away and the house is empty for an extended period, then you would almost certainly want to run the MVHR on boost for a while when you return.
A passivhaus home should always have opening windows as well as the ventilation system. And in a mild climate, you may choose to design your passivhaus home to be ventilated manually using the windows in summer. (Generally referred to as 'natural ventilation'.) However, you need to be aware that relying on windows, and the wind, for ventilation is likely to compromise indoor air quality. Pollutants and CO2 levels can build up to unhealthy levels. Kate de Selincourt has published an excellent in-depth article on this subject if you would like to learn more – Natural Ventilation: Does it Work?
Using a Passivhaus Ventilation System: as easy as 1, 2, 3
The ventilation system is an essential element of any passivhaus home. And while it might seem a little intimidating at first, we will soon get used to having it. Much like other common technology in the home – we will soon not be able to imagine living without it!
A passivhaus ventilation system can be controlled with a sophisticated display panel. This allows you to programme the ventilation to suit your weekly schedule and for the boost function to be automated. Or you may prefer the simplest option of manual switches. Either way, it's all in your control.
Think of the passivhaus ventilation system boost function as similar to a cooker extract hood. When it gets steamy or smelly, its time for the ventilation to be on boost!
And in most circumstances you don't need to switch the passivhaus ventilation system off. So give it careful consideration before doing so, the disadvantages might well outweigh any perceived benefits.
The ventilation system plays an important role in a passivhaus home living up to the promises of the Passivhaus Standard. It delivers radical energy efficiency, exceptional comfort and excellent indoor air quality. And it is easy to use.
Subscribe to Passivhaus in Plain English & More now to get exclusive passivhaus insights (mini-blog posts really!) emailed to you every two weeks along with blog updates. Subscribe here.
My thanks to Zehnder Group UK for assistance in writing this post. Zehnder Group UK provide free passivhaus related educational material as well as product literature. You can find their UK blog and downloads at their dedicated passivhaus website www.zehnderpassivehouse.co.uk.
* Also known as Heat Recovery Ventilation (HRV) and Mechanical Heat Recovery Ventilation (MHRV).