I was first introduced to Passivhaus several year back when we decided to pursue it in the architect's practice where I work. It seemed like the right step forward in so many ways. However, learning about the Passivhaus Standard and everything that is required for certification, presented many challenges. There were some technical challenges, but probably the biggest challenges were to the received wisdom that I held firmly onto at the time.
This somewhat tongue-in-cheek post explores some of those mindset challenges with the benefit of hindsight. It also explores some other mindset challenges that arise from delivering passivhaus architecture.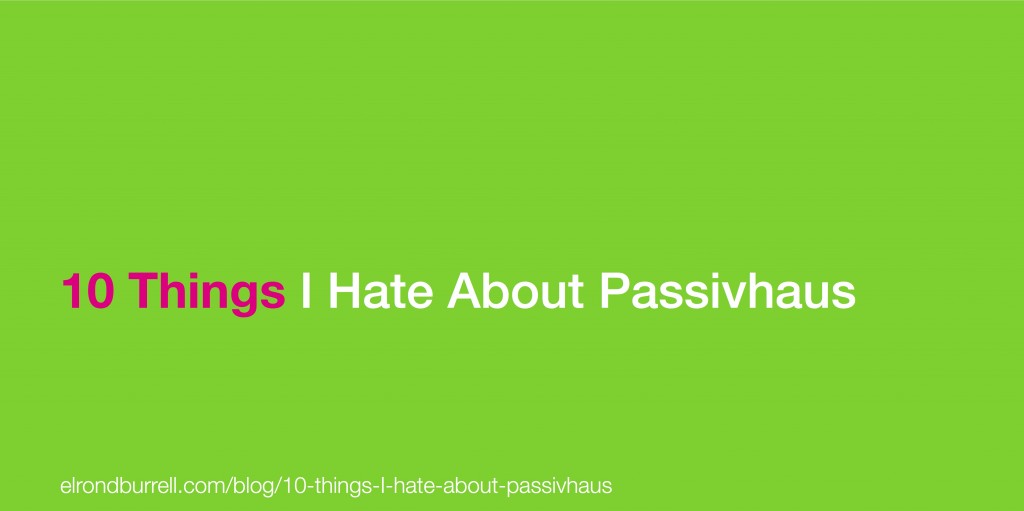 1. I see Thermal Bridges Everywhere
I used to enjoy the rhythm of rafter ends projecting out around the eaves of a house. I admired timber and steel beams apparently gliding smoothly through external walls or floor to ceiling glazing.
No more! I can't help but see the thermal bridging these details create, the resultant heat loss, material degradation risks and mould risks.
Artful architectural devices of structure and tectonic planes floating between the inside and outside only momentarily beguile me now. Then I remember the performance gap that rages on in the construction industry. And it stares me in the face. Passivhaus design requires thermal bridge free design, that's one reason why it works.
Architects, you need to get more creative about expressing structure, tectonic planes and roof edges! You need to master integrated design.
2. I've Learnt to Love Mechanical Ventilation
I used to be a die-hard proponent of 'natural ventilation.' That is, manually operated ventilation through opening windows and doors that is dependent on the whims of the weather! Adding a fan and some ducts and filters into the equation was heresy and would surely consume more energy.
It took a lot to convince me that somehow mechanical ventilation could actually save energy. And on top of that that it could be healthier than 'natural ventilation.' I had associated mechanical ventilation with air-conditioning and all the downsides of re-circulated stale air that is cooled or heated. This isn't passivhaus mechanical ventilation!
Passivhaus mechanical ventilation supplies only fresh air, nothing is re-circulated, and it gets filtered in the process. This improves the indoor air quality significantly.
Passivhaus mechanical ventilation recovers the heat from the air being extracted from the house. The system uses the recovered heat to pre-warm the incoming fresh air. This saves more energy than if cold outside air is brought directly inside and the heating system then used to re-heat the spaces up to a comfortable temperature again.
Passivhaus mechanical ventilation with heat recovery provides consistent fresh air, not dependent on the whims of the weather. It is fresh, clean, healthy and warm. And it is energy efficient.
3. I Can't Just Tick Boxes to Deliver a Sustainable Building
I love living roofs (green and brown) and they can bring many benefits to the local environment of a building, and the wider environment. A living roof used to be a hallmark of a "sustainable building", and sometimes still is.
Similarly, I love composting, it's definitely a good thing for the environment. So including compost bins in a kitchen design encourages and enables the residents to start composting. Again, definitely a good thing.
This list could go on and on…!
However, if a building has a living roof, or includes composting bins, and is still an uncomfortable, energy guzzling monster, is it really a sustainable building? It might tick certain 'sustainability' boxes, but it's not an integrated design.
Quite frankly, we should be questioning if this type of building is acceptable at all in our day and age. Regardless of climate change, regardless of resource and energy scarcity, surely any decently designed building should be comfortable and use the minimum amount of energy to be so? We have the technology, the knowledge, the materials and the skills.
Architecture needs to change, and ticking "sustainable" boxes isn't the answer. Integrated design and buildings to the Passivhaus Standard that deliver excellent comfort using minimal energy are the way forward.
4. I Can't Hide Poor Details
You know those details where a stud wall has a whole lot of timber around a corner or around a window opening? Or the ones that changed on site and looks nothing like your drawing? Where far more steel and concrete ended up within the insulation zone than you expected?
You know it's a thermal bridge. It contributes to the performance gap, it increase risk of material degradation and mould formation. It might even be contributing to high asthma rates.
But it's OK isn't it? It passes the requirements for the building regulations or code, or at least gets signed off.
Actually it is not OK.
And when you start designing and delivering passivhaus buildings you soon realise that you can't hide this stuff. You can't get away with it. Not in the design and not on site. That is one of the key reasons why certification to the Passivhaus Standard is so important. Quality assurance.
5. I'm Not Seduced by Sexy Fully Glazed Buildings
Who doesn't love a funky glass tower following the latest parametric fashion? Sliced, diced and twisted about to suit fashion and an architect's imagination. Who doesn't love pristine crystalline fully glazed buildings? I certainly used to!
Now I see these as energy guzzling high cholesterol buildings using far more energy than is equitable or necessary! They carry a huge risk of overheating in summer, freezing in winter, and of being simply uninhabitable in a power cut. Or a reduction in available energy supplies. They are iced-tea buildings that offsetting poor performance with technology and increased energy consumption.
We've got to ask ourselves, why do we expect our mobile phone batteries to last longer and longer each generation, but not care about the energy consumption of buildings? And I mean really care, as in care enough to do something about it. To design and deliver each generation of buildings to perform better.
Is architecture the only industry where we use our generation's better technology, not to make better performing buildings, but instead to make habitable and functional, buildings that perform worse than previous generations?
With passivhaus we can do the opposite. We can use our generation's technology and knowledge, and all our creativity to design better buildings that use less by design.
6. I've Learnt to Accept (High Performance) uPVC Windows
I used to hate uPVC windows. After all, they used to be cheap and nasty, unattractive, poor performing and not maintenance-free as claimed. Aside from this, PVC is a product of the petroleum industry that is arguably toxic to humans and the environment when it is produced and used, and at the end of the product's life.
Actually my view on this hasn't changed much and I still don't love uPVC windows.
However, I do accept that high quality, high performance uPVC triple glazed windows are a cost effective choice in some situations for a passivhaus building. I hope in these circumstances that the excellent passivhaus ventilation system removes any airborne toxic particles from the indoor environment. (Of course I might be wrong!)
Put it this way, I'd rather live with this than with poorly performing buildings contributing excessively to climate change.
This has been a hard lesson to learn though and I do believe the Red List approach is best and should be widely adopted.
7. I Bore People Talking About Building Performance
You would never have guessed would you? I mean, 1400 words into another blog post about passivhaus could be getting pretty boring!
I hope this isn't the case. And thank you for reading this far!
However, I do have to admit that since getting started on passivhaus, building performance has become much more of a passion for me than it ever was before.
And I'll tell you why.
Passivhaus puts architecture, and architects, front and centre of the process of designing and delivering buildings once again.
Passivhaus is about integrated design. It's about bringing all the different aspects of building design back together. I had often felt quite powerless before. As an architect I often felt my design work was seen as frivolous, just about aesthetics. And that sustainability was seen as a nice-to-have bolt-on. That our job was just to deliver the drawings. And our designs were vulnerable to severe compromise at any moment by the design and construction process.
Passivhaus blows this away. I feel empowered by passivhaus. I feel I have reclaimed my job as an architect, as an integral, vital part of the design and delivery process.
8. I Feel Guilty Delivering Buildings That are "Only" Compliant
This is the downside of the previous lesson, feeling guilty about delivering buildings that are only Building Regulations compliant. Not every project I work on is to the Passivhaus Standard unfortunately. And I accept that this is where the industry is currently. And I'm doing what I can to change this.
I can't help myself now though; I know a building that is just 'compliant' will not deliver on what it promises. It will contribute to the performance gap. It will contribute more than necessary to climate change, and not through any fault of the occupants.
I also know that my passivhaus knowledge and experience means than every building that I work on will be better than average, regardless of whether or not it is a certified Passivhaus Standard building. I know how to design, detail and delivery a much better performing building regardless of whether or not it is a passivhaus building. And the same is true for other passivhaus architects.
So although I feel guilty, I know that I am doing what I can to change the world for the better through changing architecture.
9. I Argue With Building Services Engineers
Firstly, my apologies in advance to any building services engineers who are reading this. I apologise both for arguing with you if we've worked together, and for what I'm about to write.
Working on passivhaus buildings involves a much better working knowledge of building services than most architects possess. I have learnt so much that I had no idea about previously. Or at least previously I just took the building services engineer's word for!
And this is where the issue arises, and I know this is a massive generalisation; building services engineers often work in a particular way. This is a product of their education, training and work experience no doubt. However, the way they work is often "the way they always do" and based on designing mechanical, electrical and water systems.
Unfortunately this often doesn't equate to designing a building as a complete integrated system. This requires knowledge and experience of building physics. And crucially, it requires a willingness to design with the intention of reducing plant and equipment, not just finding the best equipment to specify for the same design as usual.
So sometimes I have got into an argument with a building services engineer over this. Usually where they want to do the same "as they always do" and I want the building to work as a complete integrated design with less plant and equipment and the architecture doing more of the work.
10. I Can't Go Back. Passivhaus is the "Red Pill"
It is true. As several of the previous lessons allude to, once I started designing and delivering passivhaus buildings, I couldn't go back
This is your last chance. After this, there is no turning back. You take the blue pill—the story ends, you wake up in your bed and believe whatever you want to believe. You take the red pill—you stay in Wonderland, and I show you how deep the rabbit hole goes. Remember: all I'm offering is the truth, nothing more.
– Morpheus, The Matrix
Once you have some insight and understanding into how passivhaus actually works, your eyes have been opened wide to the reasons why buildings perform badly. You know architecture can be better. You know architecture doesn't have to contribute excessively towards climate change.
Wrapping Up
That concludes my list of "10 Things I Hate About Passivhaus". Thank you once again for reading this far! I hope you have found it educational and perhaps a little entertaining along the way too.
And please don't be frightened. Educating yourself and starting to work on passivhaus buildings is exciting and satisfying. It can bring a great sense of meaning and fulfilment to your work, it's not just for Treehuggers and Energy Geeks. It's what the world needs.
Update
This blog post has now been translated in other languages –
The team at the Hellenic Passive House Institute have translated it into Greek. It can be found here: Τα 10 πράγματα που μισώ στο ΠΑΘΗΤΙΚΟ ΚΤΙΡΙΟ.
The team at Passive House Latvija have translated it into Latvian. It can be found here: 10 iemesli, kāpēc es neciešu pasīvās ēkas.
I understand that there are some people at work translating it into French also. And If you wish to translate it into another language just drop me an email to let me know.
Please subscribe by email at this link to get future blog posts direct into your inbox. Well, a teaser anyway, it's never a full length blog that gets emailed out!