Climate change is one of the biggest threats we face today. Clearly we need to reduce CO2 emissions globally to zero, or to less than zero, to address climate change. And architecture in the anthropocene must change to address this challenge, as I have written about in my manifesto. Buildings must emit radically less CO2 during construction and occupation. This often leads to the assumption that we should be delivering 'Zero-Carbon Buildings'. However, this is the wrong target for buildings, radical energy efficiency is the right target for buildings.
In this blog post I explore 9 reasons why 'Zero-Carbon Buildings' is the wrong target and what the right targets are.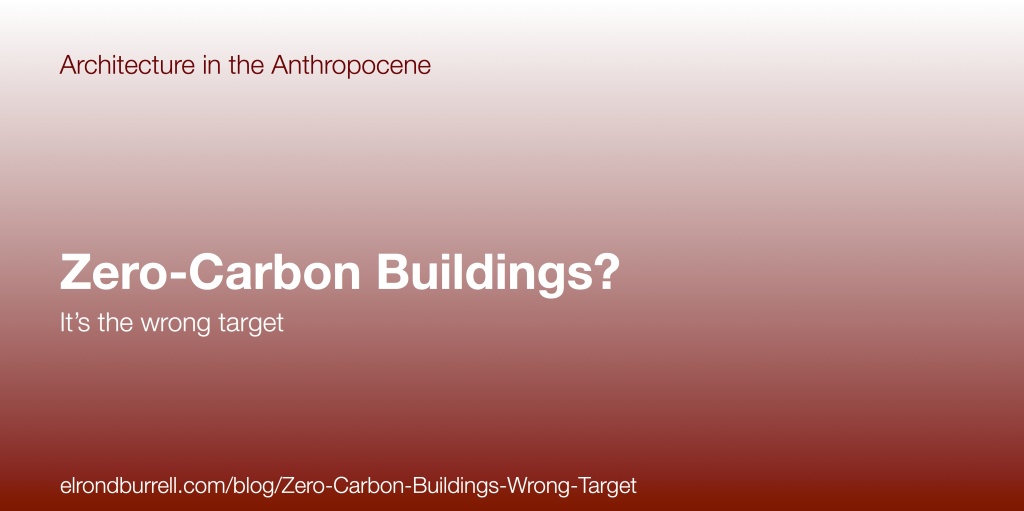 By the way, this is not a tongue-in-cheek post like a previous post, 'Zero Carbon' is a very serious issue, particularly in the UK where it is likely to be the legislated requirement for all new buildings soon. Going down the wrong path will have very serious consequences for us all.
1. What exactly are 'Zero-Carbon Buildings'?
There is no one clear definition for 'Zero-Carbon Buildings', and it is sometimes mixed up with the idea of a 'Net Zero Energy Building'. In the UK there is an official definition given by the Zero Carbon Hub for a 'Zero Carbon Home' but there is no official definition for non-domestic buildings yet.
Even so, the definition for a 'Zero Carbon Home' excludes plug loads (that is, unregulated energy consumption such as appliances, computers, TVs and entertainment equipment etc..) and includes the concept of "allowable solutions" to offset (or pay for offsetting) a portion of the CO2 emissions of the home. This means that a 'Zero Carbon Home' will continue to emit CO2, in some cases notionally offset by 'allowable solutions' and in other cases simply not accounted for.
This clearly acknowledges that in many cases it will not be practical or economic to supply all the energy needs of a house with on site carbon neutral energy generation so some form of offsetting (or omission from the accounting!) is needed to balance the equation to zero.
Defined energy consumption targets for heating / cooling (See point 9 below) and for complete energy consumption would bring clarity and certainty to the industry and building occupants.
2. 'Zero-Carbon Buildings' are not an efficient use of resources
Without a doubt, we need to urgently scale-up renewable energy generation and radically reduce the CO2 emissions of energy generation. However, at the scale of a single building, especially a house, renewable energy generation is expensive and inefficient use of materials and technology. Photovoltaic systems, wind turbines, hydroelectric power stations are more efficient and cost effective at a larger scale than a single building.
And when these technologies are installed on a building there is an opportunity cost incurred. The same money would in many cases be better spent on increasing the building energy efficiency and thereby reliably reducing CO2 emissions by design. Building energy efficiency is more resource efficient, can radically reduce CO2 emissions and almost always has the best return on investment.
It is less costly and more effective to consume radically less energy and emit less CO2 by design, rather than to meet higher energy demand with building mounted 'Zero-Carbon' renewable generation.
3. 'Zero-Carbon Buildings'; only in the right location?
Not all locations are suitable for generating renewable energy, that is, for a building to be a power station. And therefore not all locations will accommodate buildings that can be 'Zero-Carbon'.
Urban locations often come with multiple constraints imposed by the surroundings. The proximity of adjacent buildings may rule out wind turbines. The same buildings may shade the site compromising opportunities for photovoltaic systems. And in urban locations, how often is hydroelectric generation a realistic option?
The other aspect most commonly associated with urban locations is density. A high-rise apartment building or office block has considerable energy demand but limited land, or roof-top area, to match demand with on-site renewable energy generation.
Rural locations may seem to offer good conditions for photovoltaic systems, wind turbines or hydroelectric generation to all be considered. However, even then site constraints will often rule out or reduce the effectiveness and efficiency of these systems.
This raises the question; if one location is particularly suitable for renewable energy generation, should a (grid-tied) building in this location be potentially counted as 'Zero-Carbon', effectively penalising buildings in less-suitable locations? Or would it be better if the renewable energy generation from this location counted towards reducing the over all CO2 emissions of the energy grid?
"Just because we are lucky enough to be building next to a river with a small hydro plant doesn't make our building zero carbon."

– Nick Grant
Renewable energy generation and hence 'Zero-Carbon Buildings' are very location and site dependent. Building energy efficiency works reliably in all locations, on all sites.
4. 'Zero-Carbon Buildings' may increase national CO2 emissions
'Zero-Carbon Buildings' require buildings to run predominantly on electricity since this is what all building-mounted or on-site renewable energy generation provides. There are some exceptions to this (solar hot water for example) but even then electrical systems still need to make up the majority of the building services. While there is a good match between the energy generated on-site and the energy demand this doesn't necessarily present a problem. However, this is only likely to be part of any one day, and certainly only part of the year, and in many cases not consistent or reliable. There are several reasons for a mismatch and here are three:
Many buildings have significant performance gap, that is, how much actual energy is used in the building can be considerably more than what was predicted in the design. In this case the on-site renewable generation sized to suit the design may never keep up with the actual demand and the building will be constantly drawing electricity from the grid.
The time of the day when energy is being generated will not necessarily match when energy is required in the building. A house, for example, is likely to use more energy in the early morning and in the evening during the week, while photovoltaic system is more likely to generate electricity during the middle of the day.
Energy demand is at it's greatest in winter when buildings need more light and heat. Unfortunately many renewable energy systems generate the least during winter. This has a significant impact in the UK particularly where the majority of heating to buildings is currently provided by gas.
The problem with this mismatch is that it leads to more demand on the national electricity grid. And in UK, as in many other countries, the electrical grid is actually quite carbon intensive. That is to say, using electricity from the grid emits more CO2 than using on-site renewable generation. It also emits more CO2 than using (conventional) natural gas. This is due to the amount of coal burning power stations that provide electricity for the grid in the UK. Coal has roughly twice the CO2 emissions than (conventional) natural gas.
So electrically heating a 'Zero-Carbon Building' in winter may in fact emit more CO2 than heating an energy-efficient building using (conventional) natural gas! Multiply that across several 'Zero-Carbon Buildings' and national CO2 emissions rise.
Genuine building energy efficiency reduces energy demand and consumption, and thereby CO2 emissions, regardless of the energy source.
5. 'Zero-Carbon Buildings' don't reduce peak demand on the national grid
Continuing on from the previous point, 'Zero-Carbon Buildings' actually put more pressure on the national electricity grid a certain times. And it happens right when the grid is under the most pressure already, at peak demand.
In the dark freezing depths of winter, with a gale howling outside, everyone has their heating turned up high and all the lights switched on … and since the sun isn't shining the photovoltaic systems on the 'Zero-Carbon Buildings' aren't generating electricity. And since the wind is gale force and highly changeable the wind turbines have switched to safety-mode and aren't generating electricity! So all the 'Zero-Carbon Buildings' are back to drawing electricity from the national grid, like every other building. And if the 'Zero-Carbon Buildings' are only mildly above-average energy efficient, they present quite a demand for electricity!
We could hope that this type of scenario would never happen in a country where peak demand is in the height of summer. However, on a very hot, still evening, just after the sun has gone down, everyone wants the lights and entertainment on, along with some comfort cooling… the renewable generation isn't there to match demand.
There are two key issues with this. Firstly, CO2 emissions go up as covered in the previous point. Secondly, the national grid might not be able to cope as peak demand exceeds generating capacity! The amount that generating capacity exceeds peak demand, known as the "capacity margin", is already shrinking in the UK, as older power stations are decommissioned without new generation being created at the same rate. The possibility of electrical blackouts in the near future is already being raised, even without more 'Zero-Carbon Buildings' compounding peak demand further!
See for example the report: "GB Electricity capacity margin" published by the Royal Academy of Engineering (RAE) in October 2014 for the prime minister's Council for Science and Technology and reported in the press for example here and here.
'Zero-Carbon Buildings' do not reduce peak demand on the national electricity grid, building energy efficiency does.
6. 'Zero-Carbon Buildings' need to generate more than just their own demand
To actually balance CO2 emissions 'Zero-Carbon Buildings' need to generate much more than just what they use. As discussed in point 4 above, the national electricity grid is carbon intensive; in addition there are also losses in generating and distributing the electricity. For for every unit of electricity consumed in a building in the UK, 2.56 units (based on Provisional SAP2012 values, PDF) of energy needs to be consumed at the power station just so that a single unit gets to the building. When this is put into CO2 emissions terms it gets even more complicated. However, the basis remains the same: using electricity from the grid emits more CO2 than using on-site renewable generation. It also emits more CO2 than using (conventional) natural gas.
'Zero-Carbon Buildings' must generate enough 'Zero-Carbon' electricity to export to the grid to cover the actual consumption at the building, and to cover the additional CO2 emissions from when the building uses electricity from the grid. Complex unreliable offset accounting is required to actually get to 'zero'. In contrast to this, using less energy in the first place is simple and reliable and doesn't require any offset accounting.
'Zero Carbon' energy generation that feeds into the national electricity grid actually helps reduce the carbon intensity of the grid and hence CO2 emissions. However, buildings should be measured by energy consumption, and not by energy generation.
Radical building energy efficiency ensures less energy needs to be generated and therefore less CO2 is emitted.
7. 'Zero-Carbon Buildings' are the wrong scale for repairs and maintenance
'Zero-Carbon Buildings' sounds perfect doesn't it? A lovely round 'Zero' for each building. Until you have to maintain or repair the renewable energy generation system yourself. Or pay someone to do it for you.
When each individual building is treated as a power station, this is what we face: a hugely inefficient and unreliable repair and maintenance requirement. Economies of scale that community level or national level power stations benefit from are lost. So is the specialist workforce that looks after larger scale power stations. Or at least a major shift has to take place, but even then individual building owners will need to pay for repairs and maintenance. Or the 'Zero' will soon change to another number as systems lose efficiency, break down and fail, matched by CO2 emissions rising once again.
Should we really rely on individual homeowners to ensure that energy generation is 'Zero-Carbon'? How about relying on school or local authority caretakers and maintenance teams? Corporate landlords? Not that these individuals and organisations aren't necessarily capable and willing, probably many are. But should they be held responsible for a building's CO2 emissions? Is this a sensible and reliable way to radically reduce CO2 emissions for the country? For the world?
And while a distributed energy generation system may hold many advantages, there is a sensible scale for it. Arguably this is not at an individual building scale.
Renewable 'Zero-Carbon' energy generation should be at a scale where repairs and maintenance can be reliably and efficiently managed.
8. 'Zero-Carbon Buildings' is an abstract and unreliable idea
People don't emit CO2 when they occupy and use buildings; they consume energy. Which is why we pay for energy. And although there are people doing great work to help us visualise and understand our CO2 emissions, it remains abstract. In contrast we understand energy use as we can see the direct results of it; the light comes on or off, the laptop boots up, the toast pops up, etc.. And we know how to reduce our use of energy through a variety of means. Consuming less energy is a concrete and understandable.
Balancing out how much renewable 'Zero-Carbon' energy is consumed, how much is offset against carbon-intensive grid consumption and what this means in terms of CO2 emissions is complex and abstract. It's also unreliable as there are many different and changing factors involved. When energy is used, the source of the energy and what it is used for, can all impact on the actual CO2 emissions. Add offsetting between these into the mix and the complexity increases even further!
People, understandably, often don't realise or appreciate these complexities. This can lead to an assumption that renewable energy is free, unlimited and 'Zero-Carbon' and therefore there is no problem with consuming far more of it! Clearly from the points above, this is highly problematic and can quickly lead to increasing CO2 emissions. Unfortunately the atmosphere and climate doesn't appreciate the irony of this!
Energy consumption targets are simple, understandable and reliable, whether for buildings or other areas of energy consumption.
9. Are 'Zero-Carbon Buildings' always comfortable?
Balancing energy demand and generation doesn't inherently provide any comfort for the people who occupy the building. A leaky old shed or a tent could notionally be 'Zero Carbon Buildings' provided energy demand is balanced by building-mounted or on-site 'Zero-Carbon' energy generation.
To their credit the Zero Carbon Hub in the UK includes a 'Fabric Energy Efficiency Standard' within the definition of 'Zero carbon Homes'. This means that the building fabric must achieve required levels of thermal insulation and airtightness, among other factors, to ensure a maximum space heating and cooling energy demand isn't exceeded. This does ensure a certain level of comfort should be provided, however, in the absence of specific comfort requirements it is hard to be certain what level of comfort.
Why does comfort matter for climate change? Well, buildings are intended for people, and therefore need to be comfortable to be functional. If people are not comfortable, they adjust the heating, cooling, ventilation or other building services and systems to attempt to be comfortable. This increases energy consumption and in most cases CO2 emissions. This is part of the issue with the performance gap (between design predictions and reality) of buildings mentioned earlier.
So 'Zero-Carbon Buildings' that are, for example, draughty, rely on opening windows for winter ventilation, or over heat, will see energy consumption rise as people make adjustments to be comfortable.
Stringent space heating and cooling energy targets along with comfort targets ensure that the building fabric has to do the majority of the work. The building fabric, which will last the lifetime of the building, will be highly energy efficient and ensure a comfortable building by design, regardless of how and where the required energy is generated.
Radical building energy efficiency can ensure a comfortable building and reliably low CO2 emissions for the lifetime of the building.
Not 'Zero-Carbon Buildings', Radically Energy Efficient Buildings
I certainly feel very strongly that we need to radically reduce CO2 emissions globally. And I feel it is very true that global or national targets are just too big to grasp without feeling overwhelmed. This is particularly so when it comes to something as abstract as CO2 emissions, regardless of how concrete the consequences are. So it is important to focus on doing what we can at a scale that we can understand and approach without getting overwhelmed.
For architects and their clients, and others in the construction industry, the right scale is almost certainly at a single building, site or project scale. However, we should be focussed on radical energy efficiency, not on balancing complex CO2 accounts.
Passivhaus Standard buildings are radically energy efficient and ensure very low CO2 emissions over the lifetime of the building. And importantly, passivhaus buildings match this with simplicity, comfort and reliability.
I will be returning to the subject of 'Zero-Carbon Buildings' again in the near future so please subscribe by email (just below my photo and profile) to get future blog posts direct into your inbox. Well, a teaser anyway, it's never a full length blog that gets emailed out!
Acknowledgment: The Hanover 2012 paper "Is net Zero the right target for buildings?" by Nick Grant was my reference for several aspects of this post, for which I am very grateful. You can download the paper (and others) from here. I highly recommend it.