This blog post is a review of "Passive Houses: Energy Efficient Homes" published in March 2012. Chris van Uffelen, who compiled this monograph, is a prolific author with over 50 architecture and design related titles to his name
. The book surveys 56 single-family energy efficient homes from around the world that collectively
showcase the great variety of exciting and at the same time sustainable architectural solutions.
I first heard of this book when Murray Durbin mentioned it during his interview on the Home Style Green podcast. Murray and Lee Ann Durbin had found this book to be a particular inspiration when setting out to design their own residential Passive House in Auckland, New Zealand. They have written extensively about the process and you can see pictures of the completed residential Passive House on their blog.
It is a well-deserved recommendation. This book covers an enormous geographic and climatic range, and it showcases a wide variety of architectural styles and approaches to energy efficient homes.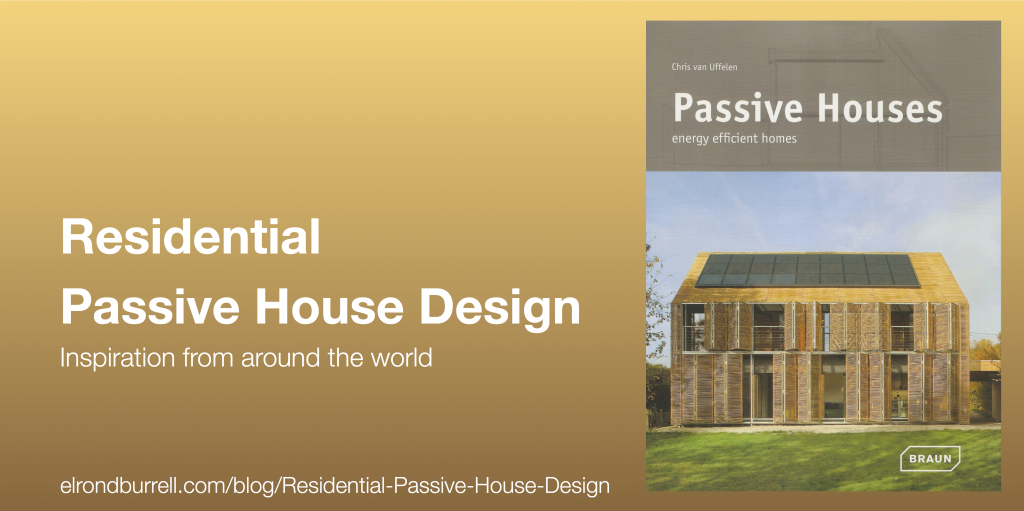 "Passive Houses: Energy Efficient Homes" includes houses from the USA, Canada, England, Wales, Germany (as you would expect!), Austria, Switzerland, several Scandinavian countries, Australia, China, Japan and more. The author didn't limit the choice to only certified residential Passive Houses, but instead selected inspirational energy efficient homes demonstrating a whole range of standards, all employing 'passive' techniques of one sort or another.
Out of the 56 homes showcased, at least 18 are certified to the European Passive House Standard and 6 to the Swiss Minergie Standard, which is very similar. Many examples meet a different standard such as the Califorina Green Building Standards Code, KfW40 (a German low energy standard), Energy Star and the UK's Code for Sustainable Homes Code 6. There are also some certified to multiple complimentary standards. For example the Prescott Passive House in Kansas City, USA, is Passive House certified and also LEED Platinum.

The book starts with a brief introduction to energy efficient design and the Passive House Standard. It discusses very succinctly the technical requirements and some of the different approaches needed in different climates. There is also an overview of complimentary approaches often taken on residential passive house design. The author points out that
Being aware of the advantages of this kind of building often goes hand-in-hand with awareness of other aspect of 'green' design… Combining this awareness with Passive House regulations can then result in a Zero- or even Plus-Energy House.
After the introduction, the book dives straight into the case studies and then wraps at the end with two helpful indexes. One index is by architects (helpful when you want to find the Daniel Libeskind designed house straight away for example!) and the other by location.
Each case study has a short written description and 3 pages of full colour photographs – pure inspiration from start to finish!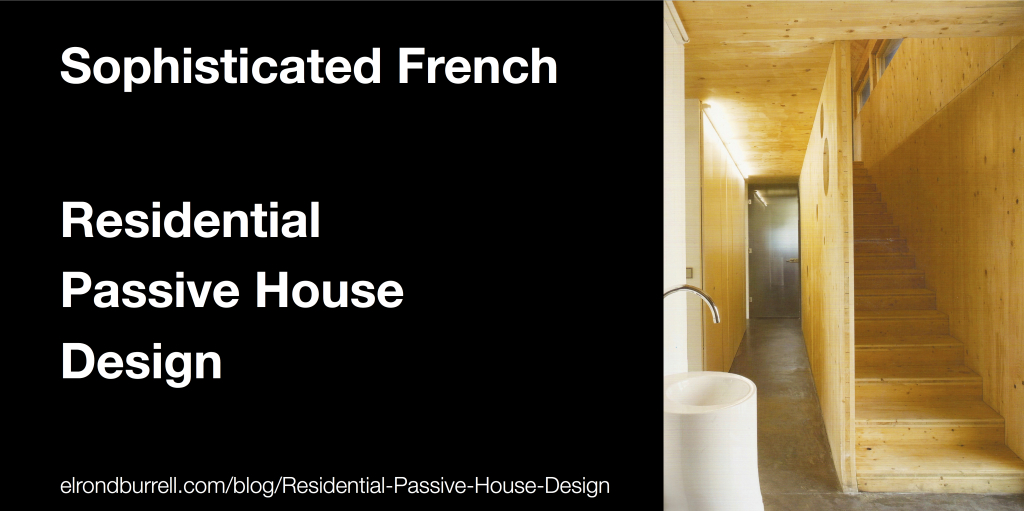 Sophisticated French Residential Passive House Design
One of the first certified residential Passive House examples in the book is the "Maison Passive, 95" in Bessancourt, France. This is a beautiful example of residential architecture and being Passive House really is the icing on the cake. So no surprise that this is the house used on the book cover! It is also the building that Treehugger used to illustrate an article about the importance of comfort in Passive House design quoting from one of my earlier blog posts.
It is a great indication of what can be achieved in France when residential Passive House design is embraced.
The house is constructed from a range of low impact natural materials with inherent beauty. The walls and upper floor are exposed CLT (Cross-laminated timber) panels, cellulose insulation is used and the house is clad externally in bamboo.
It is an extremely simple elegant residential Passive House, animated externally by folding sliding bamboo screens.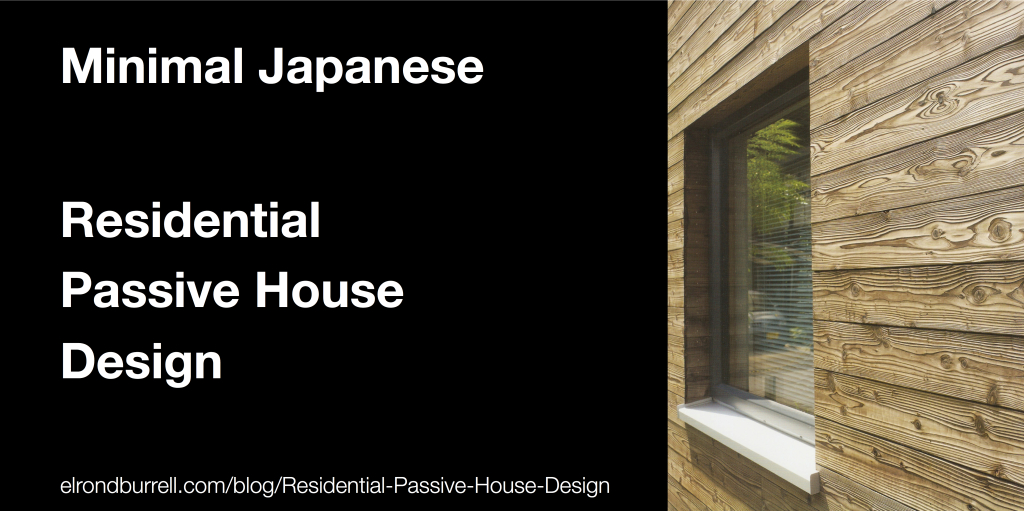 Minimal Japanese Residential Passive House Design
Near the middle of the book a gem of a house in Japan is showcased. "Passive House Kamakura" by Key Architects is the first certified Passive House in the country. Being the first Passive House construction in Japan, where it can be a relatively humid,
…the architects wanted to convince people in Japan that there is no danger in insulating building and constructing them so that they are air-tight, if the moisture movement is properly considered.
The house is delightfully minimalist in style, compact in form, with a quirky outside staircase leading to a rooftop terrace garden.
The minimal style of this residential Passive House is highlighted by the tightly detailed charcoal cedar cladding, which brings out the stunning grain of the timber.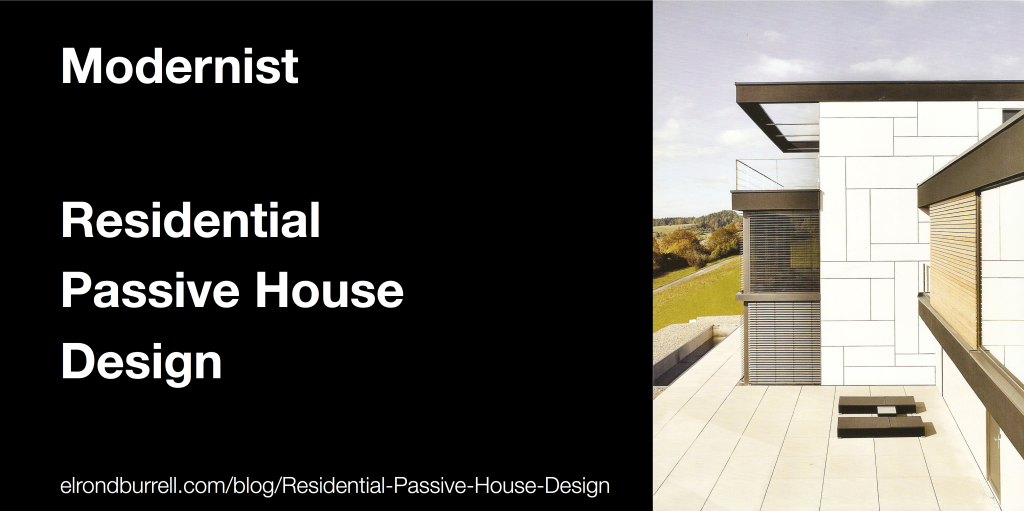 Modernist Residential Passive House Design
Not all residential Passive Houses are clad in timber or natural materials though. "Passive House M" in Haiterbach, Germany, takes a distinctly modernist approach. It is a collection of transparent and opaque volumes tied together and wrapped up with a 'black ribbon'. The large areas of south facing glazing forming the transparent volumes have external blinds and louvres to prevent overheating. In contrast the solid volumes are clad in white panels with the joints forming an orthogonal geometric pattern.
The house, along with many of the other examples in the book, has solar collectors on the roof to provide the domestic hot water. The collectors are subtly located behind the minimal lines of the parapet though and don't in any way detract from the strong modernist aesthetic.
The bold modernist form of this residential Passive House sits on a sloping site in the Black Forest, overlooking the stunning valley scenery.
Residential Passive House Design from around the world
The three examples I have selected to highlight in this blog are from different countries, different climates and different cultural and economic contexts. And yet all three are certified to the Passive House Standard providing excellent energy efficiency and comfort. And all three are beautiful examples of residential Passive House architecture. As Justin Bere talks so eloquently about in his book (reviewed here), for architecture to be successful it is not enough to be energy efficient, it must also be beautiful.
"Passive Houses: Energy Efficient Homes" is a beautiful monograph showcasing a wide range of inspirational residential Passive House architecture from around the world. If you are looking for ideas for your own home or if you are looking for ideas to inspire you when designing a home for your clients, then this is an excellent book to have on hand and browse through regularly.
It breaks through the barrier of preconceived ideas of what a residential Passive House might look like and offers a multitude of beautiful possibilities.

To purchase a copy of this book I highly recommend supporting your local independent bookshop if possible. However, if you do choose to purchase from any of the links on this site, Amazon will pay me a small commission (at no cost to you) which will support this site. You can click on the image above to go to the Amazon page for the book, or visit my Passivhaus Books page for more information about this book and other passivhaus books.
My thanks to Braun Publishing for providing me with a review copy of the book.