The Passivhaus Standard sometimes gets confused with a passive solar design approach, particularly when it comes to solar orientation. This often means people assume that solar orientation is critical for passivhaus, like it is for passive solar design.
On the other hand, sometimes those who particularly favour a passive solar approach assume that the opposite is true. That solar orientation doesn't matter at all for passivhaus. And if you pick up a book on passivhaus, such as the one I reviewed last week, solar orientation doesn't feature in the list of key methods or principles.
So which is it?
The key to passivhaus is an integrated approach to design. Solar orientation does matter for passivhaus. However, it doesn't need to be the driving factor.
Solar orientation impacts on solar gain. The importance of solar gain depends on the type of building. (Passivhaus isn't just for houses, remember?) And windows have other purposes besides heating!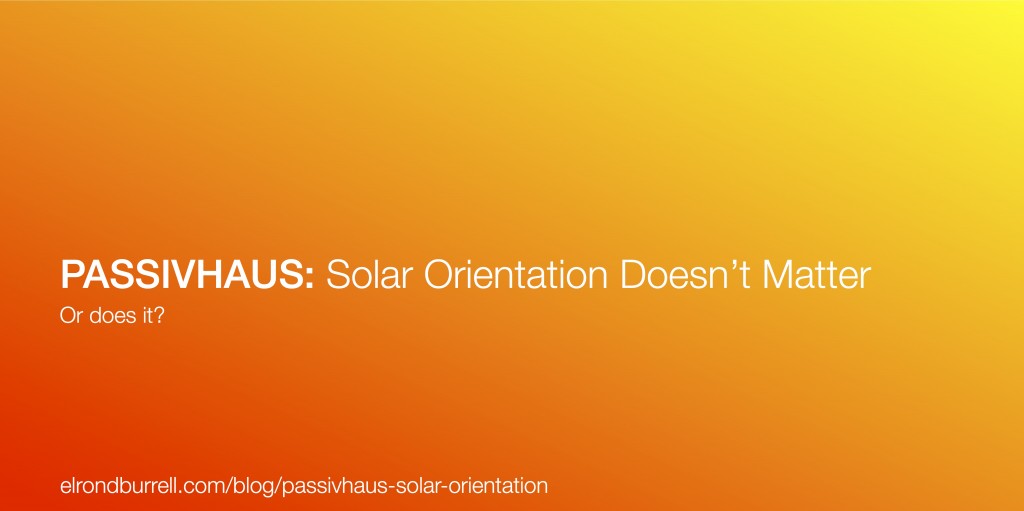 Solar orientation and solar gain
It's no surprise that the solar orientation of a building, particularly the windows, impacts on the solar gain. The general advice for designing passivhaus buildings is to orientate the building and the majority of the windows facing the equator whenever possible. However, this isn't so much about maximising solar gain as it is about optimising the building design and ensuring comfort can be maintained.
Too much
An optimised building design doesn't rely too heavily on solar gain. On the Warm blog, John Trinick suggests that solar heat gain should only offset around a third of the heat losses. This means the heating in a passivhaus building is approximately 1/3 solar gains, 1/3 internal heat gains (people, activities and equipment) and 1/3 from the heating system. If solar gain is relied on too much any change in the window sizes or specification, or the shading, will have a major effect on the design that will need balancing somewhere else. Added to this, if there are any installation issues that change the performance of the windows, the finished building may not live up to design predictions for comfort or energy consumption. This is part of the reason why certification is so important for quality assurance.
Another important reason is that if the solar gains are too high then the risk of overheating increases. This may impact on the comfort and enjoyment of the building. And, in addition to the cost of the larger areas of expensive windows, there will also be the cost of increased shading needed.
Comfort is also why it is generally advised to have the majority of the windows facing the equator. (South for those of us in the northern hemisphere, north for those of you reading this in the southern hemisphere!) Windows that face east or west are difficult to shade due to the low angle of the sun in early morning and late afternoon. If they are too large then the risk of overheating increases and is difficult to manage.
Too little
On the other hand, an optimised building design also shouldn't have too little solar gain. The sun hardly ever enters windows that face directly away from the equator (north or south), so on balance you will lose more heat from these windows than you will gain. And if the total area of the windows is too small and solar gain doesn't even offset a third of the total heat losses, then the insulation performance will need to increase. This means either thicker insulation or more expensive higher performing insulation of the same thickness.
Passivhaus is integrated design. Optimising windows means considering the solar gain in the context of other aspects of design.
Solar orientation and different building types
Solar gain is more important for the heating of some building types than others. I already alluded to this in my previous blog about passivhaus for different building types. The key point is that buildings other than houses often have very different internal heat gains. And when the internal heat gains are higher, solar gain is not so much less important as actually less desirable. The role of solar orientation is slightly different.
Internal heat gains might be higher due to the number of people in the building. For example, higher education facilities with classes of 30 adults, or lecture theatres of over 100 adults, will have considerably more heat gains from all these people. Or it may be due to the activities. Gymnasiums will have higher heat gains from the physical activities taking place inside. Or it could be due to the equipment, some workplaces, for example, will have a higher concentration of electrical equipment giving off more heat.
Regardless of the cause, buildings with higher internal heat gains are likely to be more sensitive to overheating. These types of buildings may even be reliant on cooling for comfort rather than heating.
In all building types with higher internal heat gains, solar heat gain is less desirable and needs to be managed carefully. Shading can be used to do this or it can be achieved by solar orientation. However, in an optimised building, solar orientation may actually mean facing the building away from the sun. Or it may mean facing particular rooms and spaces away from the sun.
Integrated design means considering if more or less solar gain is desirable. Solar orientation is part of this consideration.
Windows aren't just for heating
Integrated design doesn't mean just integrating energy efficiency and comfort. These are incredibly important not least because they are so often missing from architecture. However, integrated design means so much more than that. And windows serve other very important purposes besides providing heat from the sun.
Windows provide daylight, which is important for our health and wellbeing. Daylight is a better quality of light to work and live in. And because of this, adequate daylight in a building can reduce reliance on artificial lighting and hence save energy.
Windows provide views outside, which at worst, can make a room feel less enclosed. Views to the outside are also good for concentration and for health. And we mustn't forget that thoughtfully crafted view to the outside can be a masterpiece of beauty and delight.
Windows play an important role in the aesthetics of a building. They can tell a story, or create a rhythm of solid and void. They can be simple openings or a complex pattern. They can be decorative.
Windows are not just elements of utility. Integrated design includes among other things, energy efficiency and comfort, but also includes beauty and delight.
Integrated solar orientation
Solar orientation is part of the integrated passivhaus design process. Windows can provide solar heat gain, but it is a "Goldilocks" situation – solar gain needs to be the right amount, not too much or too little.
Solar orientation doesn't drive passivhaus design. Some buildings, or spaces within buildings, don't require solar heat gain. They are warm enough from the internal heats gains that people, activities or equipment provide without the need for more heat from the sun.
And we mustn't forget that windows are so much more than just a source of heating.
We need buildings that are comfortable with radically reduced energy consumption and radically low CO2 emissions. Passivhaus buildings. And we must remember that as well as energy efficiency and comfort, integrated design includes beauty.
Do you know someone who isn't clear about Passivhaus and solar orientation? Please help me in my mission to change the world for the better, by changing architecture, and share this blog post with them. You can use the handy buttons bellow or just email them the link.
Acknowledgment: Nick Grant, Passivhaus Consultant of Element Solutions eloquently made the point that windows are for more than heating at the UK Passivhaus Conference 2013. And that solar heat gain isn't actually free. You can find his presentation "Simple design solutions" as a PDF here.