Perhaps you've heard the oft-cited African proverb: "It takes a village to raise a child." Passivhaus is similar; it takes a whole team to successfully deliver a passivhaus project. The Passivhaus Standard requires an integrated approach to design so everyone on the team needs to be involved and to play their part.
Structural engineers need to design structure integrated with, not compromising, the thermal envelope. Building services engineers need to design the building as a whole system not as discrete items of equipment added to a building. Architects need to be aware of building services and structure and how they integrate as elements of the architecture. The passivhaus designer needs to be aware of the building shape, form, structure, services, physics and more. And the list goes on; the team of professionals working closely together on an individual passivhaus project can be quite extensive.
And looking beyond individual projects, passivhaus professionals share many common interests and goals. They want to deliver buildings that live up to their promises. They want to help tackle climate change. And more often than not, they want to work together and help each other succeed. Whether it is on specific projects, at conferences, or on social media, passivhaus professionals are very active in honestly sharing mistakes, lessons learnt, best practice and latest developments. There is a very strong global passivhaus community.
Community is a reason to Love Passivhaus!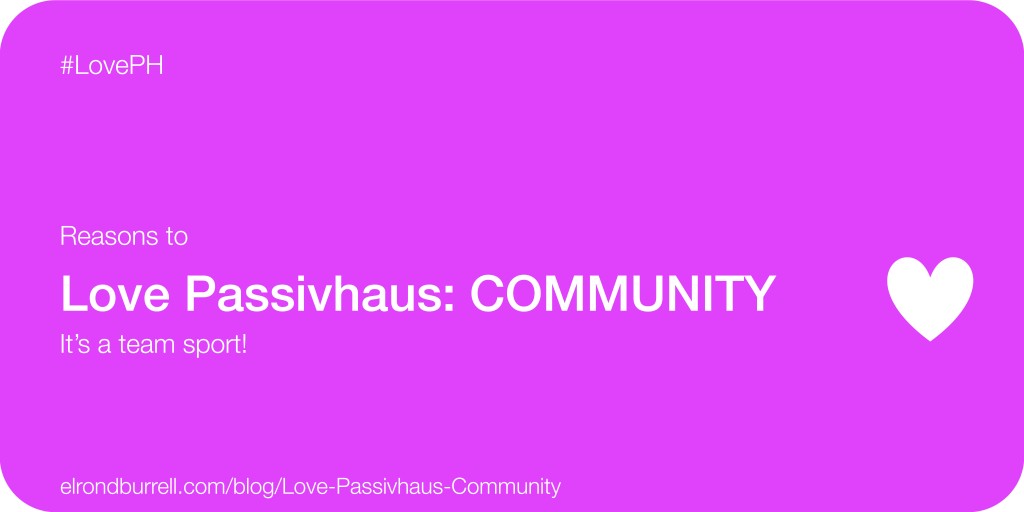 Love Passivhaus: Community Around the Globe
Climate change and architecture in the anthropocene is a global issue. So it's no surprise that the community of passivhaus professionals is also a global community. There are people the world over learning about and applying the international Passivhaus Standard to architecture in their region. (See the map in this blog post for example.)
The passivhaus community comes together in person frequently at regional conferences. One example is the inaugural South Pacific Passive House Conference over Valentines weekend 2015 that prompted this #LovePH series of blog posts. And the South Pacific Passive House Conference (SPPHC15) was a great example of community. The Passivhaus Standard is still relatively new to both New Zealand and Australia and so the conference was small and intimate. It was clearly a group of very committed and passionate people though and fantastic to be part of.
There is also the international conference every spring, with the 19th conference being held in Leipzig in 2015.
The global passivhaus community is also engaged in lively debate, support and knowledge sharing across social media online every day. And it should be no surprise that Twitter is where I am most involved in this online passivhaus community! The global passivhaus community on Twitter is massive, however, in honour of the inaugural South Pacific Passive House Conference, here are the key passivhaus people on Twitter from New Zealand and Australia.
Kara Rosemeier @PHA_NZ – has probably done the most out of anyone to introduce the Passivhaus Standard to New Zealand! Kara runs the passivhaus training in New Zealand that all locally trained passivhaus consultants and designers in New Zealand and Australia will have undertaken. She also initiated and organised the inaugural South Pacific Passive House Conference.
Glenn Murdoch @Vicus_Design – Glenn is a passivhaus designer and runs Vicus Design Group, a passivhaus design and build company based in Christchurch.
Jon Iliffe @Jon_eHaus – Jon is an engineer and passivhaus designer and he runs eHaus, a passivhaus design and build company based in Whanganui.
Guy Shaw @EnergyArchNZ – Guy is an architect and passivhaus designer previously based in the UK but back home in NZ now.
Kara, Glenn, Jon and Guy are all board members of the Passive House Institute NZ also.
Paula Hugens @eZEDLtd – Paula is a structural engineer and passivhaus consultant (featured in a previous blog post) based in Queenstown.
Clare Parry @ClareEParry – Clare is a passivhaus designer and a key figure in the Australian Passive House Association. She is also involved in passivhaus projects in the hot humid climate of Indonesia.
International speakers at the conference included Bronwyn Barry, Nick Grant, Mark Siddall and myself.
So if you wish to follow and engage with members of the global passivhaus community on Twitter I recommend that you start with these people.
To discover other members of the global passivhaus community on twitter then you could try this list or this list. However, if you want to keep it really simple and start with just one person, then I suggest you follow Dr. Wolfgang Feist the originator of the international Passivhaus Standard.
Passivhaus is a team sport, and there is a global passivhaus community to support you and your projects, wherever you are.
Love Passivhaus: Community in Action
While climate change and architecture in the anthropocene are both global issues, the passivhaus standard applies to specific buildings in specific locations and climates. Passivhaus excels in providing a tangible and direct way to tackle the potentially overwhelming issue of climate change. Passivhaus professionals are of course engaged in policy change and advocacy at all levels across the globe. However, the day-to-day work of passivhaus professionals is often in the nitty-gritty of solving technical challenges with buildings. And the passivhaus community is here to support each other, and newcomers of all levels of experience, in solving these challenges too.
There are often questions and rapid debates on Twitter. Technical solutions are shared, experience and advice offered, and links to research provided. This was illustrated one morning when Chris Parsons posted some sketch details he was working on:
Been up since 5:00 I will solve this! pic.twitter.com/25ICwBxGa5

— Chris Parsons (@ParsonsWhittley) September 25, 2014
Almost immediately several people responded to Chris asking about the project and offering possible solutions. You can see the whole conversation over many pages here. This is the power that comes from a passionate group of people, such as the global passivhaus community, engaging through social media. They can reach out immediately and help one another. This example involved people in the UK on Twitter, however, there are many other examples involving debate and discussion across the globe, not just on Twitter but on other social media platforms also.
The global Passivhaus community is a powerful support network on social media. Join in!
Love Community: Love Passivhaus
The architectural community is often a competitive and defensive community. Passivhaus changes this. The people involved in passivhaus are committed to changing architecture. Making architecture good for people and good for the planet – and helping one another to achieve this. People share their mistakes and what they learnt so others can avoid making the same mistakes. Tackling climate change is a big task, too big to take on alone, but not too big to take on as a community.
And the global passivhaus community is not exclusive; it's open to anyone. It's constantly evolving and growing. Each year more people get involved, more research gets carried out and more passivhaus buildings appear across the globe.
Passivhaus is a team sport. There is a strong and supportive global passivhaus community. This is what we need; we can't tackle climate change alone. Together we can, please join in!
This blog post is part of a series of posts on reasons to love the Passivhaus Standard – in contrast to the tongue-in-cheek post '10 Things I Hate About Passivhaus' which you may have already read. The #LovePH series was prompted by the inaugural South Pacific Passive House Conference and Trade Show taking place in Auckland, New Zealand, over Valentines weekend 2015. I was privileged, both as a Kiwi expat and as a passivhaus architect and enthusiast, to be invited to give a presentation at the conference, on behalf of Architype Ltd where I worked at the time.
Please join in and share on social media what you love about the Passivhaus Standard using the hashtag #LovePH.
To learn more about passivhaus related topics, please subscribe to my blog by email at this link. I publish a new post every two weeks.
You can also follow me on twitter at @ElrondBurrell.
SaveSave