It is often assumed that the Passivhaus Standard only applies to individual houses, or perhaps semi-detached or terraced houses. It is true that the Passivhaus Standard was originally developed for houses. And the translation of the German word "Passivhaus" into English as "Passive House" reinforces this assumption. However, once established, the Passivhaus Standard rapidly expanded to include many other building types as people realised the benefits it consistently delivers. And as other types of buildings have been delivered to the Passivhaus Standard, the Passive House Planning Package used in the design and certification process has evolved and developed also. Now it is possible for almost any type of building to achieve certification to the Passivhaus Standard.
Quality assured design and construction, reliable indoor comfort and radical reductions in energy consumption – who wouldn't want these outcomes for any kind of building?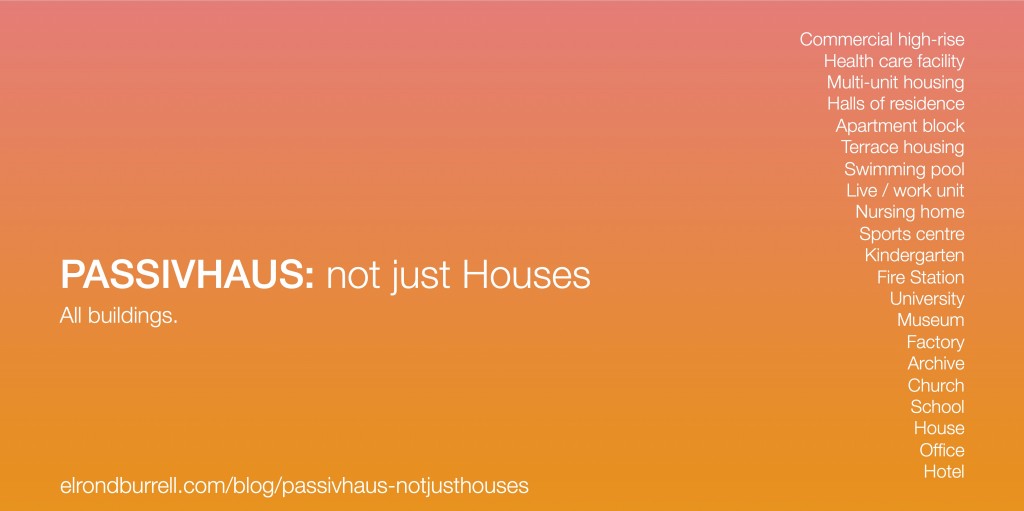 It started with houses
The Passivhaus Standard was developed out of the research that Dr Wolfgang Feist and Dr Bo Adamson undertook into 'low-energy houses' in Northern Europe that didn't appear to be performing as well as predicted. In Dr Feist's words,
I was working as a physicist. I read that the construction industry had experimented with adding insulation to new buildings and that energy consumption had failed to reduce. This offended me – it was counter to the basic laws of physics. I knew that they must be doing something wrong. So I made it my mission to find out what, and to establish what was needed to do it right.
When the research moved to practical application the first Passivhaus building was completed in 1990, a row of four terrace houses in Darmstadt, Germany. Architects Bott, Ridder and Westermeyer designed the houses and one of the end terraces became Dr Feist's family home. So the Passivhaus Standard started with these houses and naturally the buildings that immediately followed were also houses.
Fast forward to 2014
A quick glance at the categories of the (international) 2014 Passive House Awards quickly reveals how far things have moved on since 1990. The categories were;
Single-family homes
Apartment buildings
Educational buildings
Office and special use buildings
Retrofits, and
Regions
Yes, you read that last category correctly, not just individual buildings, whole regions!
Digging further into the finalists in each category reveals an even broader range of building types within the 'Educational buildings' and 'Office and special use buildings' categories;
Mixed-use seminar and apartment building
Montessori School
Gymnasium
Museum
Correctional Centre – a courthouse and prison!
Environmental Information Centre and Church
Artist Studio
High-rise offices
Medium-rise offices
Corporate headquarters
So it is clear that there is a wide range of building types and sizes that are now being constructed to the Passivhaus Standard. And with each of these different building types come different challenges.
The Common Thread
In all cases, the common thread is that building physics is building physics. And when the right aspects of building physics are taken into account and a rigorous quality assurance process is applied to the design and construction, comfortable buildings that consume radically less energy can be delivered, regardless of building size or type. So whether it is a single-family house, a school, a church or an office high-rise, the same aspects of building physics apply and the same benchmarks need to be met.
Despite the common thread, different buildings do have different challenges to meet the benchmarks. For example, when designing a house to the Passivhaus Standard, the number of people living in it and their pattern of use is usually relatively straightforward. Therefore, how much heat there will be in the house, just from the people being there and their activities, is also relatively straightforward. In comparison, when designing a larger building such as a school or church or office, this can be very different. Some of the differences are:
Changing numbers of people – the number of people and how they use the building can vary considerably from hour to hour, and day to day
More people – the increased number of people relative to the building floor area adds significantly more heat inside the building
More equipment – the increased amount of electrical equipment (e.g. computers, printers, photocopiers in the case of a school) can also add significantly more heat inside the building.
Multiple building services – a larger building often requires several building service systems (e.g. ventilation and hot water systems) where a house would usually only require a single system.
Not all the differences make for greater challenges though. For instance, larger buildings can actually be less challenging when it comes to heat loss. This is because the ratio between the external surface areas (floor, walls, roof) that lose heat, and the internal volume of the building that gets heated, is reduced with a larger building in comparison with an individual house.
Passivhaus: All Buildings
The Passivhaus Standard is a performance standard for comfort and energy consumption. It is a clear system for rigorously applying building physics to the design of any building, coupled with a rigorous quality assurance process to ensure building performance.
The need to address climate change is urgent. Architecture must change. We must radically reduce our CO2 emissions from buildings: not just houses, all buildings.
The Passivhaus Standard offers a reliable means of ensuring All Buildings are comfortable with radically reduced energy consumption and radically low CO2 emissions.
Do you know someone who (still) thinks Passivhaus is just for houses? Please help me in my mission to change the world for the better, by changing architecture, and share this blog post with them. You can use the handy buttons bellow or just email them the link.