I often focus on the design aspects of the Passivhaus Standard on this blog. I'm an architect after all. However, while getting the design right is important for passivhaus, getting the construction right is equally important. The Passivhaus Standard isn't an aspirational standard that sets good intentions but doesn't follow through. The Passivhaus Standard has the integrity to deliver what it promises.
What does this mean for a builder who is asked to construct a building to the Passivhaus Standard? I explore this question with Darren Macri of Bleu Nest. He shares his journey to becoming a Passive House Builder. He also shares some of the mindset shifts and new ways of working that are needed to build to the Passivhaus Standard. And you get a taste of his infectious humour.
What does it take to be a Passive House Builder?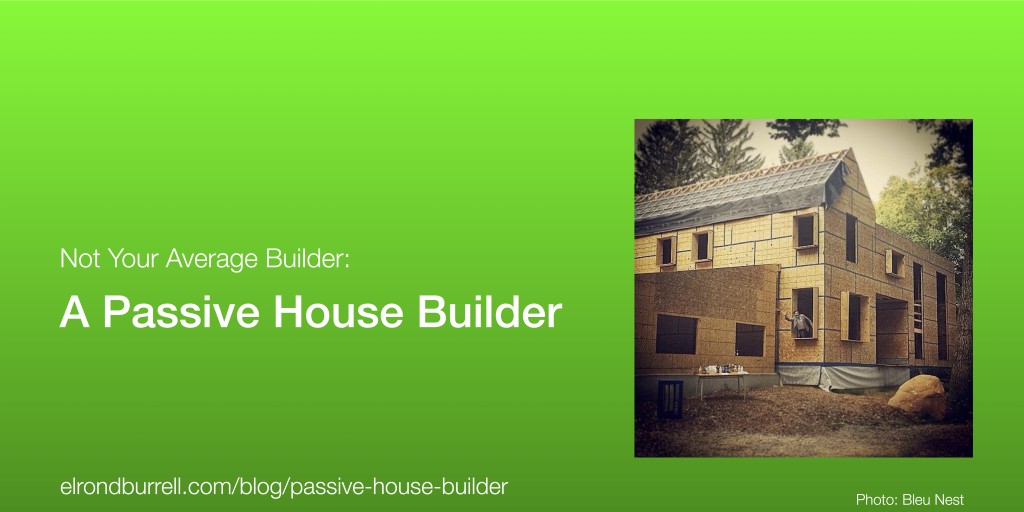 Not just a Passive House Builder
I know Darren from the online passivhaus community. He is very active on twitter and writes a very informative and humorous blog that is well worth subscribing to.
Darren is not just a builder; he is the CEO and Founder of Bleu Nest, a building company dedicated to building "better." He is certified as both a Passive House Consultant and as a Passive House Tradesperson, while also being a LEED Accredited Professional. A little more about Darren in his own words:
With more than a decade in the homebuilding / renovating field and armed with a BFA from NYU Tisch School of the Arts, Darren commands his artful eye and his forward thinking practical building knowledge to help liberate people from the 'traditional home building standard' by injecting High Performance Passive House know-how into his projects and out into the world so that we may all BUILD BETTER.
An introduction to Darren wouldn't be complete without an explanation of his company name. Knowing Darren's humour, you could easily wonder if it is a poke at a certain "Learning Thermostat" that would certainly be feeling blue in a passivhaus home where it had nothing to learn! This is not the case though. As it turns out the name is a direct reference to two of the key benefits of the Passivhaus Standard: energy efficiency and comfort. As Darren explains:
When you take a thermal image of a passive house it reads blue in the image due to the lack of heat loss. Nest is for comfort. All homes should evoke the comfort of a good nest that surrounds you, protects you, and supports you. As for the spelling of Bleu vs Blue – well, we just had to add a little bit of class to the joint, so we spell it the French way.
Becoming a Passive House Builder
Construction professionals become interested in the Passivhaus Standard for a variety of reasons. However, it seems that many construction professionals fall out of love with environmental standards and rating systems when they realise the standards don't deliver what is promised. Then they have an epiphany when they encounter the Passivhaus Standard and find that it not only matches their values but also does deliver what it promises.
Darren first pursued LEED accreditation to bring his work in alignment with his personal values. He feels strongly that the construction industry has an incredible responsibility. What our industry produces will often outlive us and have a significant impact on the wider community and environment. And then at a conference in 2009 he had his "Passivhaus Epiphany" –
While LEED has many nice things about it, it does not tackle in a significant way, the two root problems of our industry – energy consumption and comfort. In 2009, I was at a conference and learned about Passive House; I felt like a teenage boy that just noticed girls for the first time – "Oh my god. You are amazing – how did I not see you before?"
[Click here to Tweet this awesome quote!]
Darren swiftly took it upon himself to train as a Passive House Consultant and start implementing this new knowledge in his building work. It was good that he acted when he did. His family needed a new larger home and so this was his first Passivhaus Standard building project. As I have written about, passivhaus has immediate benefits for children.
A Passive House Builder is Different
For designers and architects that take an integrated approach to sustainable design, adopting passivhaus isn't such a big step. The Passivhaus Standard is after all, about the architecture and not a set of 'features' to be added on to a conventional building. And the same applies to builders, which made Darren's adoption of the Passivhaus Standard that much easier:
In truth, my guys and I have been focused on sustainability since we started in 2004. Being sustainable isn't some new thing that we have to plop on top of our existing ways of doing things. We are not married to 'this is the way we have been building for X years,' we are married to 'what is the best factually supported way build a low energy building in the most economical way for our clients.'
And it also helped that Darren's firm has always been committed to high-quality construction, whereas some builders wait for the architect or client's punch list (snag list) before making an effort to raise the quality. Or as Darren puts it in a more humorous way when referring to conventional builders:
They roll with the punch list. We roll with the punchlines! 😉
This doesn't mean that Darren and his team could continue as before when they started building to the Passivhaus Standard though. There was still a steep learning curve:
There are a lot of things that are different about a passive house. The ventilation systems, the wall sections, the window install, but really, those are all details that you just build as designed. The biggest adjustment for my team and my subs was the air barrier. The air barrier never goes on vacation. We have to own that obsession in our hearts during every step of the process.
[Click here to Tweet this awesome quote!]
Quality control is paramount to achieving the Passivhaus Standard both at design and at construction stages. This requires extra vigilance on site, which Darren and his team tackle in a direct manner:
My team all have clearly defined roles so that there is accountability and it helps to limit finger pointing. For instance, we have one carpenter in charge of our air barrier. If the subs need to make a hole they know to clear it with him and he will develop an approach to seal it.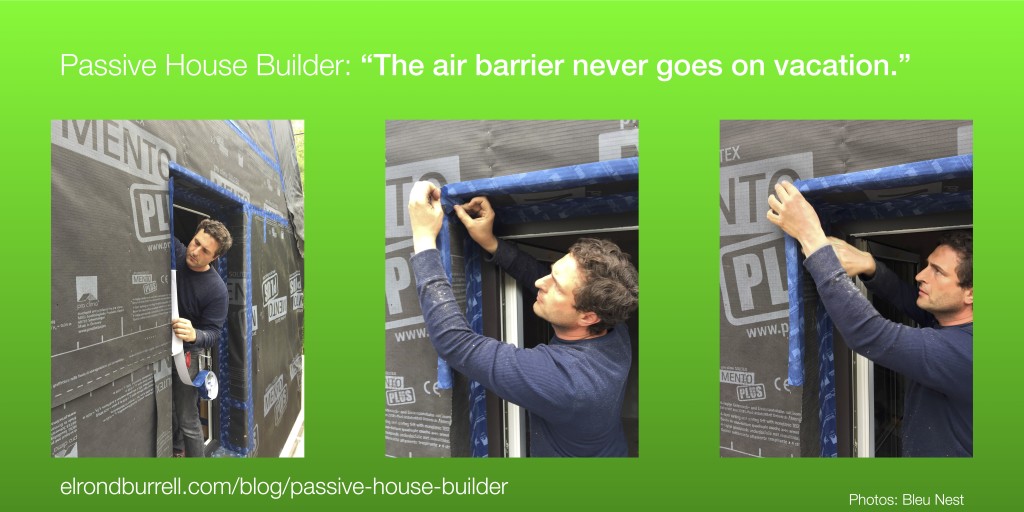 The Value of a Passive House Builder
A Passivhaus Standard building needs to be designed and documented correctly. And it needs to go through the passivhaus certification quality control process. In this case, any competent builder should be able to construct it, right? Well in theory yes, particularly if they are interested in learning along the way. However, in practice, having a Passive House Builder brings considerable benefit. And if you are building your own home, or carrying out significant alterations to your existing home, you are making a considerable investment. Rightfully, you want the process to be an enjoyable and successful one. Darren explains the advantages of having a Passive House Builder:
As the builder and as Certified Passive House Consultant (CPHC) our goals are directly in line with the design team and the client. Passive House is different way of building and there can be a lot of uphill battles you have to face, having a builder that is a CPHC eliminates many of them.
And of course there is the matter of quality already mentioned:
Just like Kia is car and Bentley is a car, but I wouldn't want my Bentley built by the folks that build Kia.
As a result most clients come to Bleu Nest because they know what Bleu Nest will deliver. The clients want high performance, they want passivhaus and they want the quality that comes with a Passive House Builder.
A builder that is also a Passive House Consultant is a fantastic first step. The integrated approach to design and construction needs to go further though. Darren agrees with me that we need architecture to change in the anthropocene, we need deeper collaboration as part of an integrated process to ensure buildings live up to their promises. In Darren's words:
We have to rethink the whole process of the way we work together in the design and construction fields. The days of designing something in a vacuum and then handing it off to go get built are gone. For high performance structures the builder needs to be brought in during the design phase. Having complete buy in on all sides to the methods and details ensures a team approach which will give you a project with less change orders, on budget, and built better.
A Passive House Builder, Seriously
Movements like passivhaus start from grassroots action, not legislation: architects and builders delivering buildings to the Passivhaus Standard. The construction industry is very slow to change and it can take a huge effort to bring something as radical as the Passivhaus Standard into the mainstream. It's one of the reasons I write this blog in 'plain English.' Darren is on a similar mission and he uses humour as his weapon of choice:
Passive House is a fresh take on traditional building and I want to mirror that idea in my marketing. It's so fun to flip an industry on its ear – one that has been unquestionably marching to the same beat for so long. Serving it up slathered in humor is how I have fun with something that I take very seriously. I want people to stop and pay attention and notice Passive House because I truly believe that it is the only way to build for the future. Peter Ustinov says it best; "Comedy is simply a funny way of being serious."
The need to address climate change is urgent. Architecture must change. We need mass adoption of the Passivhaus Standard for buildings. As well as passivhaus architects and designers, we need Passive House Builders.
Are you a Passive House Builder, or aspiring to be one? Leave a comment below with a link to your work so the blog readers can check it out.

Find out more about Passive House Tradesperson training at the Passive House Institute's Certified Passive House Tradesperson page. Various organisations put on training courses in the UK, US and other parts of the world.