This blog post is a review of "Passive Houses: Energy Efficient Homes" published in March 2012. Chris van Uffelen, who compiled this monograph, is a prolific author with over 50 architecture and design related titles to his name
. The book surveys 56 single-family energy efficient homes from around the world that collectively
showcase the great variety of exciting and at the same time sustainable architectural solutions.
I first heard of this book when Murray Durbin mentioned it during his interview on the Home Style Green podcast. Murray and Lee Ann Durbin had found this book to be a particular inspiration when setting out to design their own residential Passive House in Auckland, New Zealand. They have written extensively about the process and you can see pictures of the completed residential Passive House on their blog.
It is a well-deserved recommendation. This book covers an enormous geographic and climatic range, and it showcases a wide variety of architectural styles and approaches to energy efficient homes.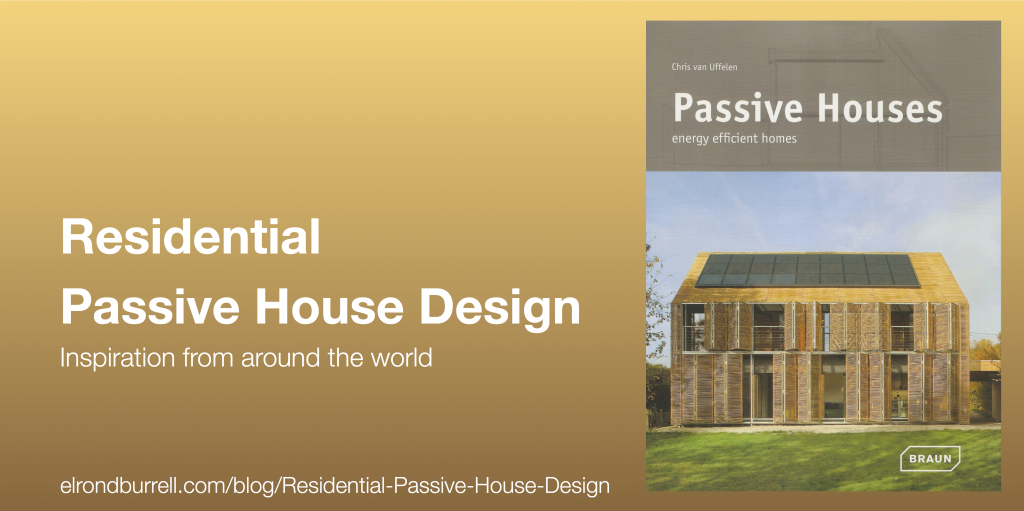 "Passive Houses: Energy Efficient Homes" includes houses from the USA, Canada, England, Wales, Germany (as you would expect!), Austria, Switzerland, several Scandinavian countries, Australia, China, Japan and more. The author didn't limit the choice to only certified residential Passive Houses, but instead selected inspirational energy efficient homes demonstrating a whole range of standards, all employing 'passive' techniques of one sort or another.
Out of the 56 homes showcased, at least 18 are certified to the European Passive House Standard and 6 to the Swiss Minergie Standard, which is very similar. Many examples meet a different standard such as the Califorina Green Building Standards Code, KfW40 (a German low energy standard), Energy Star and the UK's Code for Sustainable Homes Code 6. There are also some certified to multiple complimentary standards. For example the Prescott Passive House in Kansas City, USA, is Passive House certified and also LEED Platinum.