This blog post is a review of "The Passivhaus Handbook" published in October 2012. The authors wrote and compiled this practical handbook for anyone who wants to be involved in delivering ultra-low energy housing. Janet Cotterell and Adam Dadeby were the architect – client team for the Totness Passivhaus B&B, the third retrofit in the UK to be certified to the Passivhaus Standard. Following their work together on the B&B they formed Passivhaus Homes and subsequently wrote The Passivhaus Handbook.
The Passivhaus Handbook is:
…intended to provide knowledge of both the methodology and the skills needed to achieve genuinely low-energy buildings, whether new or retrofitted, that perform as intended.
While passivhaus is not just for houses, The Passivhaus Handbook really is the 'bible' for developing passivhaus housing, particularly if you are thinking of a self-build passivhaus. The authors give substantial background into the "how and why of passivhaus" and then hold your hand through the whole process of a project. There is valuable guidance on setting up a passivhaus project, particularly applicable to self-build passivhaus, and then key practical aspects of a passivhaus project are each given a chapter. The book wraps up with chapters on living in a passivhaus, illustrated with four case studies, and a chapter specifically about UK policy.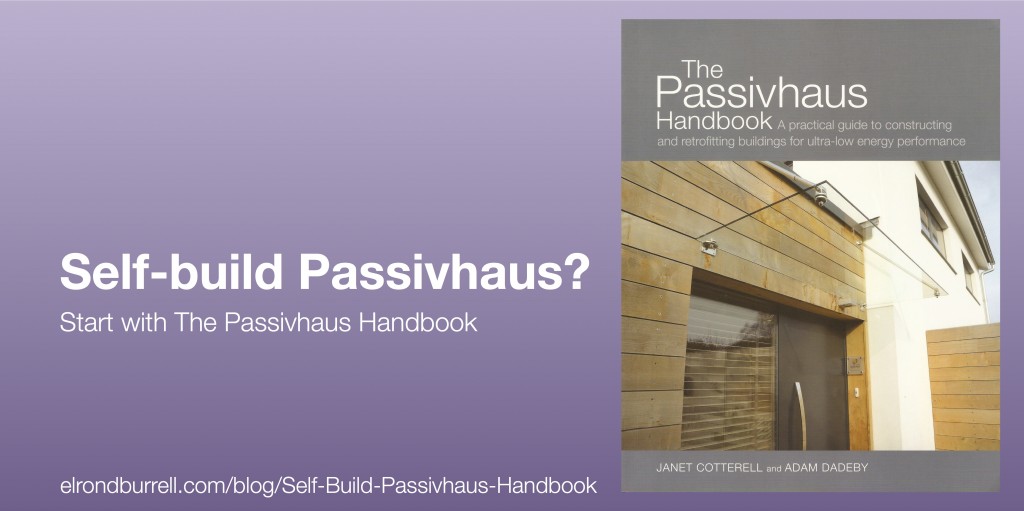 Self-build Passivhaus: Where do I start?
With a self-build passivhaus project, as with almost any project, often the most difficult question is; "Where do I start?" Actually starting is probably more important than knowing exactly where to start. However, The Passivhaus Handbook concludes part one, "The how and why of passivhaus", with a practical and useful guide to starting a passivhaus project. This guide to setting up a passivhaus project is aimed at potential owners and clients and focuses on aspects of commissioning a build project that are particularly pertinent to a passivhaus project.
The guide starts with a section on factors to consider when choosing a plot, or assessing a plot you already own. Bearing in mind that passivhaus is about integrated design; the authors make a clear point that:
None of the issues discussed in this chapter will determine whether or not the Passivhaus Standard is achieved, but they will have a bearing on the cost of the project.
Continuing to elaborate on this point in the section on shading, the authors' note:
If little or no wintertime solar gain is available, it means that the roof, walls and floor U-values will need to be improved considerably to bring the overall net heat demand down.
This is a key point to understand in starting you own self-build passivhaus project – there are many ways to meet the Passivhaus Standard, the most cost effective way is through an integrated design approach. If any one aspect of the design compromises another aspect too much then there will be cost implications. For example, if solar gain is limited by orientation or shading, then more insulation (which costs more) will be needed to bring the heat loss down in balance with the reduced solar gain. Or for another example, if the orientation and window sizes result in too much solar gain, then shading (which costs more) will be required to prevent overheating. In the authors' words again:
Energy balance is a key Passivhaus concept.
The next section of the guide takes you through planning considerations, including conservation areas, before moving onto retrofit considerations. A whole host of building-specific issues relating to a retrofit project are covered, followed by sections on phasing retrofit work and extensions (additions).
Continuing to hold your hand as you start your self-build passivhaus, the next section of The Passivhaus Handbook is about selecting an architect and builder. Several useful resources are referenced, but the standout value offered in this section is an 11-point interview plan to ensure you employ the right architect for your project. The plan includes questions that range from more straightforward ones such as:
Can the architect explain what a Passivhaus is?
Through to ones that might well make an unsuitable architect squirm, such as:
How open is the architect to suggestions and input from the builder?
Several detailed technical questions are suggested and luckily for the owner asking the questions, The Passivhaus Handbook provides comprehensive answers to them in later chapters!
The section on selecting a builder is slightly less detailed with the expectation that once a suitable architect is employed, they will be able to assist in this.
Notably there is a section dedicated specifically to the role of the passivhaus team after completion of the building. Too often design and construction professionals are not engaged beyond the handover of the building. However, a building is usually a one-off, unlike a car or an electronic device, and there is a period of fine-tuning needed after completion that is best carried out by the design and construction professionals together with the building owners and operators. This is not specific to passivhaus buildings, however, the quality assurance of the Passivhaus Standard and the focus on performance in use means more attention is given to it on passivhaus buildings.
The chapter ends with a section on your role, that of the client. The practical guidance emphasises the importance of integrated design and maintaining an open mind throughout the process. This isn't just aimed at successfully meeting the Passivhaus Standard though; it is actually guidance on managing your expectations and the costs during the process. From this perspective, much of the advice would be worth heeding on any self-build project, passivhaus or not.
You can help reduce the risk of cost overruns by allowing plenty of time for the design process. The more thought that is given to the project before it starts on-site, the fewer pressurised, last-minute (nearly always costlier) decisions have to be taken. This means that you must be willing to spend a realistic percentage of your budget on design and energy modelling before starting the build.
Self-build Passivhaus: Practical Considerations
Part Two of The Passivhaus Handbook, "Passivhaus Projects: a practical guide" has six chapters:
Using the Passivhaus Planning Package (PHPP)
Thermal bridges
Airtightness and sequencing
Moisture
Windows
Ventilation
Each chapter is broken down into several sections covering more specific sub-topics. These chapters are well illustrated with photos, diagrams and construction details. Talking points, technical terms and comparative values of different components or systems are pulled out an highlighted in coloured boxes and tables. Each chapter concludes with a handy "Recap" box summarising the chapter in just a few lines or paragraphs. In using the book myself, I often flip though to the recap box to review the content of a chapter and see if it has the information I am looking for.
The practical consideration chapters aren't necessarily in the order you might encounter them in a self-build passivhaus project. However, they do read as stand-alone chapters very well, so it is worth going back to read a specific chapter when, or before, the topic comes up.
For owners, except those with a particularly passion for technical detail, almost everything they will need to know for their passivhaus project can be found in The Passivhaus Handbook. For passivhaus designers or consultants, architects, engineers and builders, it provides a good solid overview and a moderate level of technical detail. In this way, it is a valuable resource worth revisiting regularly for reference and to refresh understanding. Of course, if you are not at all familiar with the Passivhaus Standard then the level of detail will seem comprehensive.
These chapters aren't just focused on design either. For example, midway through the chapter on Airtightness there is a section on avoiding air leakage at the design stage. A section closely follows this on avoiding air leakage at the construction stage. And after these, there is also a section on construction sequencing (programming) highlighting the sequence that certain activities must take place in, in order to ensure an airtight building envelope can be achieved efficiently. This even includes some suggested notes to include on construction drawings – another illustration of just how practical The Passivhaus Handbook is.
Sequencing notes for airtightness
1. Plaster reveal in preparation for window installation.
2. Fix metal frame cramp to the outside of the existing wall.
3. Install window.
4. Stick tape to the inside of the window frame as per manufacturer's instructions.
Embed the tape into a coat of plaster to create continuous airtight layer between plaster and windows.
It is, however, also advised that having in-person discussions for these activities is just as important. Notes on drawings are easily overlooked or misunderstood!
Living in Your Self-build Passivhaus
The penultimate chapter gives you a taster of what you can look forward to: "Living in a Passivhaus." Four case studies are considered:
The case studies consider several aspects of what it is like to live in a passivhaus building. Interestingly the feedback is from the perspective of clients who initiated or were very involved in a self-build passivhaus in the first three case studies. Whereas in the last case study the feedback is from residents who were only introduced to passivhaus as the architect involved them in the process of designing the apartments. The feedback covers many areas of living in a passivhaus building and the impact on the residents' lifestyle. Areas covered include:
Noise
Energy bills
The kitchen
Bathrooms
Drying clothes
The ventilation system
Arriving and leaving
Temperature
Heating systems
There are many gems in these case studies. One that brought a smile to me while reading it was the side benefit of butter staying "spreadable" in the kitchen in a passivhaus building, even in winter. Another that is fascinating is a discussion around people standing with the front door open to say goodbye to friends in winter. In a standard "air leaky" building this quickly results in cold draughts as the outside air is drawn into the unbalanced internal spaces. In contrast, in the passivhaus buildings it has been noted that this doesn't happen. The balanced ventilation and airtight fabric means the cold outside air isn't drawn in, there are no cold draughts created and there is no significant heat loss from the door being open!
The recap at the end of the chapter says it all really:
Although Passivhaus buildings do require a few small changes in how we 'operate' our homes, they do not demand a wholesale change in lifestyle; these are minor adjustments that, with a little prior explanation, are intuitive and very easy to accommodate into one's daily life.
…
Indeed, there is a sense of liberation provided by Passivhaus homes – not only are occupants freed from high fuel bills, but also the building just seems to 'take care' of them by maintaining a comfortable and healthy environment.
Are You Ready to Start Your Self-build Passivhaus?
The Passivhaus Handbook is the book you want if you are considering a self-build passivhaus. It is also the book you want if you are a construction professional working with owners who want a passivhaus home or are open to considering it. It gives you all the background understanding you need, guides you through the process of setting up your project and holds your hand while you tackle all the practical considerations of the process.
The planet needs passivhaus and you can made a difference.
The Passivhaus Handbook also benefits from valuable appendices including guidance on space heating and hot water options, with useful clarification around hot water storage, thermal conductivity values for some common building materials, a conversion table for US units to metric units (the handbook does have international application), and an illustrated table of UK projects certified to the Passivhaus Standard at the time of publication. The glossaries and notes are generously made available to download from Green Books (see "references and resources" below the book listing).

To purchase a copy of this book I highly recommend supporting your local independent bookshop if possible or purchasing direct from Green Books. However, if you do choose to purchase from any of the links on this site, Amazon will pay me a small commission (at no cost to you) which will support this site. You can click on the image above to go to the Amazon page for the book, or visit my Passivhaus Books page for more information about this book and other passivhaus books.
My thanks to Green Books for providing me with a review copy of the book.