This blog post is a review of An Introduction to Passive House by Justin Bere published in December 2013. Justin Bere, a pioneering passivhaus architect in the UK, wrote and compiled this slim and beautifully presented volume.
This is first and foremost a book addressed to the architectural industry, as Dr. Wolfgang Feist writes in the foreword:
Justin Bere uses the language of an architect … and shows how Passive House opens up new possibilities for creative design.
The two key themes for the book are set in the Preface:
Integrated Design for the 21st century, that is to say, for the anthropocene, and
Building Physics – using the right tools & process to eliminate guesswork
The following sections of the book pack in a wealth of interesting and useful context, history, introductory technical guidance and wide-ranging inspirational case studies.
Throughout the book there are reminders, directly and indirectly, that architecture must also be beautiful to be successful.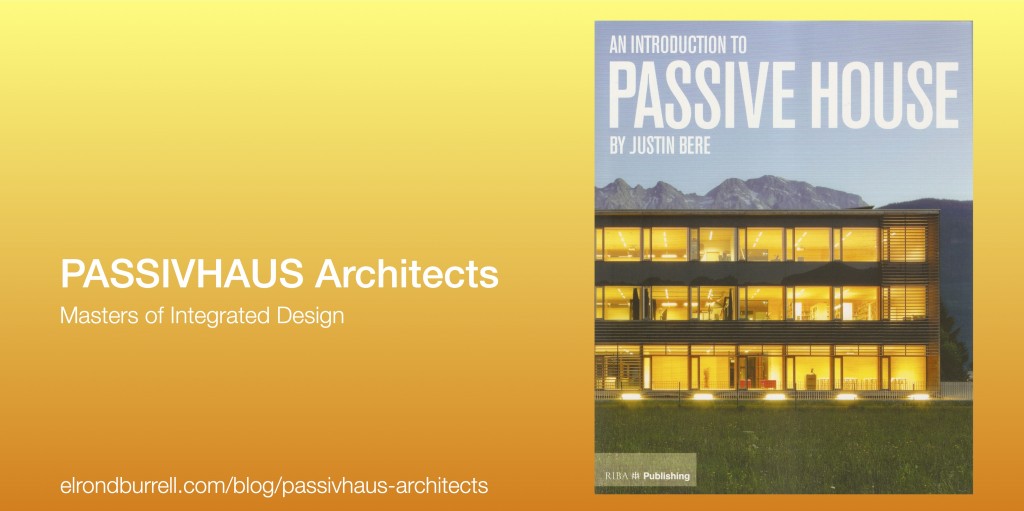 Concise context and understanding of key issues
The first main section of the book is: "What is Passive House?"
This section starts with the fascinating history and emergence of the Passivhaus Standard. It was reading this that I first appreciated the different research strands and approaches that Bo Adamson and Wolfgang Feist had been following. However, even during their early research in the 1980's it was apparent that a fabric first approach was going to be fundamental for passivhaus to be cost-effective. As the building fabric largely falls within the architect's remit, this made the emergence of architects who could master integrated design, passivhaus architects, almost inevitable.
The economic foundations that the Passive Standard is built on are covered concisely and clearly. For anyone wondering why the specific energy benchmarks to achieve optimum comfort were set at the figures they are, this short chapter makes valuable reading.
Justin identifies six methods that form the essential basics of passivhaus design. Each gets a single page treatment including photographs and clear descriptive diagrams. The six methods are:
Insulation
Draught-free construction
High Performance windows and doors
Heat recovery ventilation
Good building commissioning
Solutions for both hot and cold climates
Each method provides introductory technical guidance only and doesn't go into great detail. However, each one is clear and concise, giving good context and understanding of key issues that sadly many architects currently lack.
Architects would benefit considerably more from reading this section of the book than by assuming they understand the Passivhaus Standard by way of the oft-quoted passivhaus energy consumption and airtightness benchmarks.
Why aren't all buildings built like this?
The second main section of the book is: "Why Passive House?"
This section starts with a wide-ranging discussion by Justin. It covers the renewable energy revolution (i.e. radically reducing energy demand allows renewable energy sources to meet the currently challenging winter demand), comfort and health, affordability sustainability, embodied energy, whole life costs, over lessons from Austria. This picks up on the key theme of Integrated Design and puts it into a much wider context than just the integration of different design disciplines. It then finishes by bringing the building physics reassuringly into an architectural context:
Used wisely, the Passive House software provides a fundamentally careful and caring approach to building that underpins an architect's personal approach to design.
…
There is little or no restriction to designing beautiful buildings as long as they are designed and built very well – like a machine, or a natural organism. Why aren't all buildings built like this?
There is then a short chapter on capital and whole life costs. It mainly covers research comparing some completed bere:architect passivhaus homes with a 2010 Building Regulations compliant home and Code for Sustainable Homes Level 3 and Level 4 homes.
Three chapters contributed by other authors then follow:
Localised Passive House Construction by Thomas Stoney Bryans (bere:architects)
The Nirvana of Zero-Zero – energy efficiency and low embodied energy by Gareth Roberts (Sturgis Carbon Profiling)
Performance data and user feedback – comfort, health and energy efficiency by Sarah Lewis (formerly of bere:architects)
Each one of these would be an incredibly valuable paper in its own right and together they make a hefty contribution to the technical guidance of the book. They very much fit the introductory nature of the book and I highly recommend them as primers in each of the subjects covered.
This section is finally rounded out by two short chapters, firstly on air quality and health and secondly on the importance of skills. Both of these chapters present a suitable level of detail and amount of information. However, both go beyond just providing information and robustly challenge the industry and authorities to step up.
On air quality & health:
…the UK regulations allow primitive "trickle ventilation" gaps in window frames and they permit crude bathroom extractor fans that waste heat and create cold draughts.
On the importance of skills:
…the architect must enable, by design, every logical step in achieving airtightness, for some designs will hinder airtightness and some will facilitate it.
And as Justin makes clear, well-designed buildings that also perform well provide both short and long term value for the clients and occupants.
The industry needs passivhaus architects: masters of integrated design.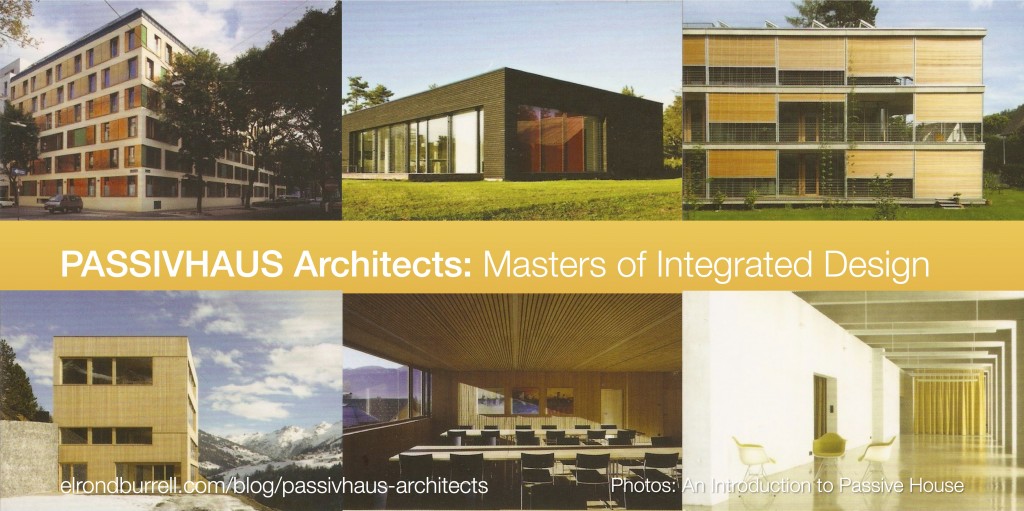 Passivhaus Architects
The final main section of the book makes up two thirds of the content of the book and is simply: "Case Studies"
There is a brief review of some of the first passivhaus buildings in the UK and then 15 case studies from around the world are presented. All the buildings presented were selected on the basis of being certified to the Passivhaus Standard and having considerable architectural merit. Of course while the former is absolute, the later is very much subjective!
There is a strong European flavour to the selected buildings, which is not at all surprising given how established passivhaus is in Europe – and therefore how long passivhaus architects have had to establish themselves as masters of integrated design. It is very pleasing to see school, community centre, kindergarten, gym, university, multi-residential and office buildings make up the bulk of the case studies along with houses in Japan, London, New York and Denmark. After all, passivhaus isn't just about houses.
This section is full of stunning photographs. It means the book could easily live on a coffee table, or in an architect's reception, ready for people to flick through until something particularly attractive catches their eye. And then they can dig deeper and learn about integrated design and the benefits of passivhaus.
And yet, the wealth of inductory technical information means this book could also easily be at home on an architect's (or engineer's) shelf handy reference books.
It is an especially important book as passivhaus moves into the mainstream and clients ask for their building to be passivhaus. Or at least expect architects to understand what the key issues are.
Passivhaus must become the norm
The final sections are the conclusions and a page of references to further information.
Justin's conclusions read as a manifesto for optimism and change at an individual, industry, societal and policy-making level. The problems we face are set out in plain terms, followed by the evidence-based benefits that passivhaus delivers.
…Passive House is the best form of building for people's health, comfort and general wellbeing, for every age group, for fantastically low energy use, for very low whole-life costs, for the environment as a whole and for the future of the planet.
The planet needs passivhaus and that means integrated design. We need passivihaus architects: masters of integrated design.
An Introduction to Passive House by Justin Bere is a beautiful book with an excellence mix of introductory technical information and inspiration. All architects would benefit from a copy of this book and should certainly familiarise themselves with the content of it before their clients start asking for the benefits Passivhaus provides!
bere:architects also have excellent research and publications pages on their website with very useful free downloads generously provided. I highly recommend visiting and educating yourself.

To purchase a copy of this book I highly recommend supporting your local independent bookshop if possible or purchasing direct from RIBA Bookshops. However, if you do choose to purchase from any of the links on this site, Amazon will pay me a small commission (at no cost to you) which will support this site. You can click on the image above to go to the Amazon page for the book, or visit my Passivhaus Books page for more information about this book and other passivhaus books.
My thanks to RIBA Publishing and to bere:architects for providing me with a review copy of the book.