This blog post is a review of "Passive House Design – Planning and design of energy-efficient buildings" published in September 2014. Author and architect Roberto Gonzalo (who also wrote the 2012 title "Energy-Efficient Architecture") and passivhaus architect Rainer Vallentin collaborated on this valuable guide for architects and designers.
This is a timely book as the delivery of passivhaus architecture accelerates around the world. As the authors note, more and more architects are finding their way to passivhaus:
…simply because it is one of the most scientifically sophisticated and practical energy efficiency standards for buildings currently available.
Thorough introductory and background material is provided for those that are new to the Passivhaus Standard. This is followed by chapters dealing with a range of subjects in suitable detail for those already familiar with the standard. Well-illustrated case studies complement both the introductory and the more advanced content.
"Passive House Design" is an extremely useful book full of beautiful photographs, clear diagrams and detailed drawings. It maintains the very high standard of presentation and technical detail that can be found in all Detail magazines and books.
Passivhaus architecture depends on the design and construction quality of the building envelope. This book guides you in designing the building envelope.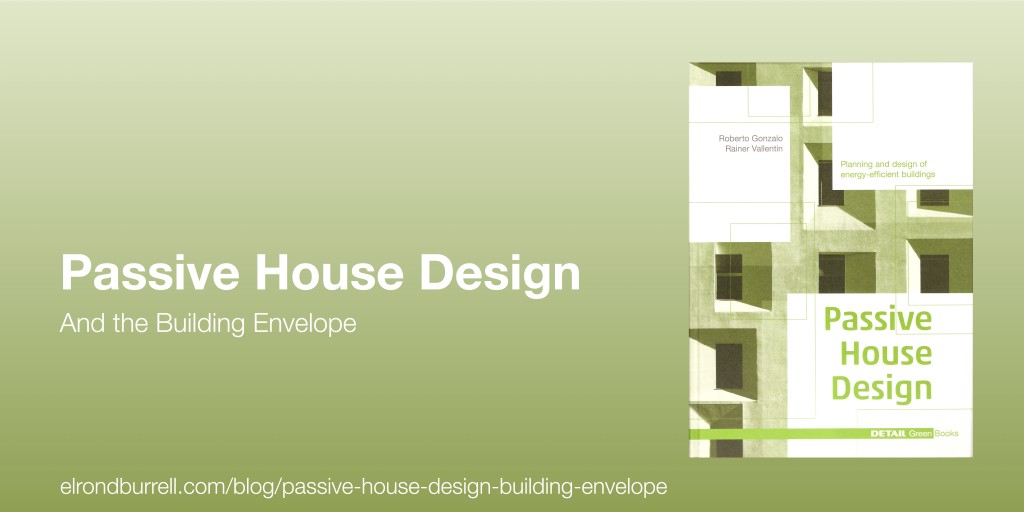 Get the Form of the Building Envelope Right
As I have written about before, design is central to the Passivhaus Standard. Form, shape, mass, orientation, materials, window and door placement are important parts of architectural design and they are all part of the building envelope. Getting the fundamentals of these correct is the best starting point for successful, and cost effective, delivery of passivhaus architecture. "Passive House Design" dives into all these aspects of design in a chapter titled "Design and planning principles."
One of the key aspects of architectural design that is picked out specifically is the building form and how it relates to performance. Other passivhaus books also touch on this as my review of "PHPP Illustrated" highlighted. "Passive House Design" goes into more detail though and provides some very telling illustrations.
The required U-value of residential buildings to meet the space heating demand is graphed against the "Form Factor," which is a measure of the compactness the building form. This gives an indicative of how much insulation is needed in the walls and roofs, which in turn impacts on the cost of the building envelope. This is brought home even more clearly with not just the popular illustration of different building forms (see below, top), but also a specific worked example. The authors illustrate how just the positioning of balconies (see below, bottom) can halve linear thermal bridging, significantly impact the form factor, and as a result, have considerable impact on the space heating demand.
Photographic examples of where these design decisions have both a negative and a positive impact on building performance are illustrated.
Detailed guidance is provided on how to resolve these kinds of design questions and others design questions around window placement, penetrations through the building envelope, building services, solar design, energy balance and more.
Architects need to be aware of how early decisions about the form of the building envelope impact building performance.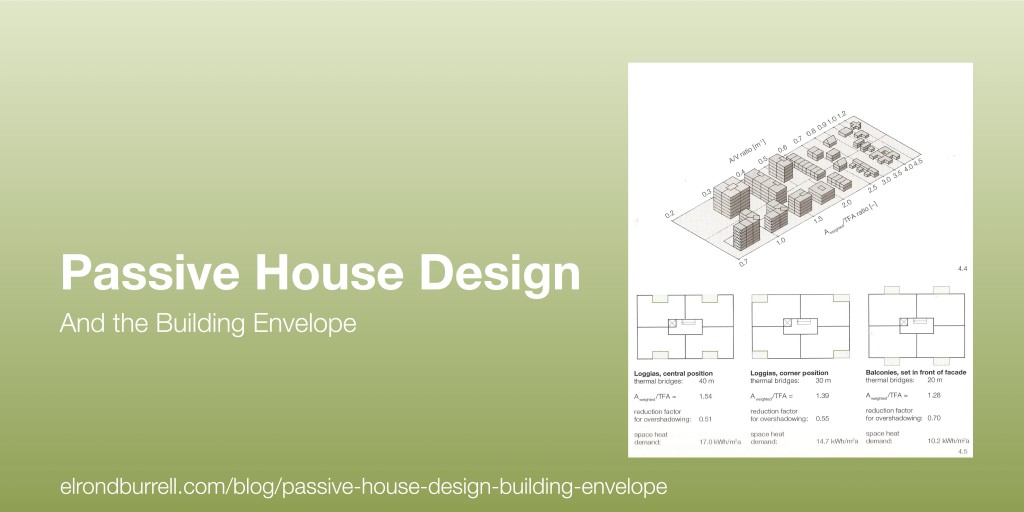 Cladding the Building Envelope
There are a total of 14 detailed case studies illustrated in "Passive House Design" Of these case studies, five are residential buildings (including a care home facility), four are non-residential buildings, and five are refurbishment projects. Aside from these detailed case studies, the book is bursting with full-colour photographs of inspiring passivhaus architecture.
What is apparent from the case studies is that there are many ways to clad the building envelope. Sometimes people fall into the trap of assuming passivhaus buildings must be clad in rendered insulation or lightweight cladding. Clearly this isn't true. While the first case study is a single-family residence beautifully clad in vertical larch boards, other case studies illustrate glass cladding, brick cladding and even precast reinforced concrete cladding (see below.) There are also examples of natural stone and fibre cement cladding.
In the chapter on "Building Envelope Components," five 'typical' passivhaus details of the roof, wall and floor elements of the building envelope are illustrated. The authors again draw particular attention to the importance of the building envelope:
…the choice of building type and construction system set the agenda for the design. This is decisive not only for the construction design but also for the final appearance of the building, right down to the last detail.
So, while almost any type of cladding is possible for passivhaus architecture, it is important to make the choice early as it will determine a lot later on in the design process. Unfortunately not all architects design with the construction process in mind. This is an important aspect of integrated design that successful passivhaus delivery requires. And it applies not just to the insulation and airtight construction but also the finishes and aesthetics.
Cladding and construction system choices are integral to the passivhaus design process.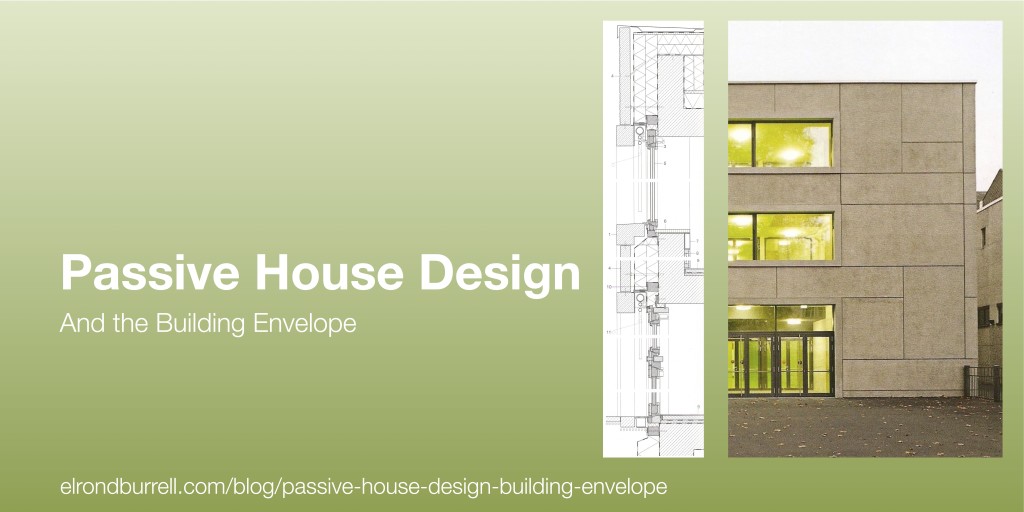 The Building Envelope isn't just the Thermal Envelope
The strong emphasis on designing a compact form and detailing the thermal and airtight construction layers can make passivhaus architect seem rather daunting at first. However, as "Passive House Design" illustrates so beautifully, there is so much more to the building envelope than just this. Passivhaus does raise some creative challenges and impose some constraints that architects otherwise often ignore.
How do you design a beautiful eaves detail that maintains insulation continuity and doesn't introduce any cold bridges?
How do you design balconies to provide level thresholds for access while not compromising thermal and energy performance?
How do you do you decide where to draw the line between inside and outside?
How do you position building services in relation to the building envelope and the internal layouts?
These questions and others are addressed in detail in "Passive House Design" Architects can quickly grasp how to go about designing and detailing beautiful passivhaus architecture.
The principles and approaches are discussed and illustrated in chapters titled "Passive House Planning," "Design and Planning Principles," "Passive House Refurbishment", "Building Envelope Components," and "Building Services." And then the case studies ("Reference Buildings") provide illustrations of how the principles and approaches set out have been applied to completed buildings. Each case study has a written description of the design, the construction and the building services. There is a selection of photos, drawings, and key details, usually including a cross-section through the building envelope.
One case study (see below), an apartment building in Bern designed by Halle 58 Architecture, illustrates how the building envelope need not conform precisely to the thermal envelope. The building is conceptualised as a series of floating slabs with the internal ceilings lining through with the external soffit. The facades are modulated with a series of filigree railings and timber roller shutters on the outer edge of the balconies, while being almost fully glazed to the inside.
The constraints of passivhaus are opportunities to creatively explore the building envelope.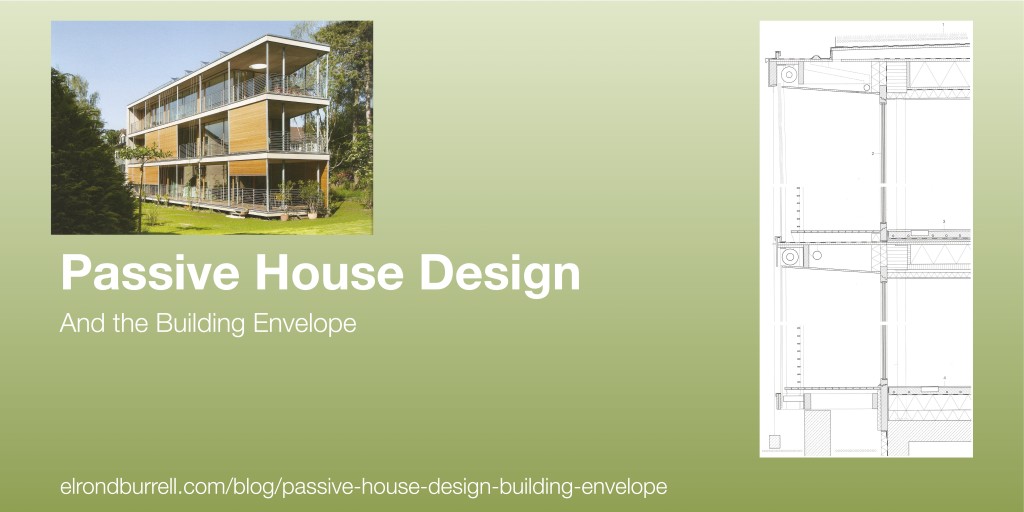 Passive House Design, it's not just the Building Envelope
While I have focussed on the elements of "Passive House Design" that illustrate and guide architects in the design of the building envelope, there is of course much more to the book and to passivhaus design. There is a whole chapter devoted to "Urban Design" that looks at how energy concerns, compact buildings and solar design all impact on urban design. The chapter concludes with a look at some reference designs and current developments.
However, the building envelope remains central to designing passivhaus architecture, and hence of prime concern to architects. "Passive House Design" provides superb guidance, details and illustrations of how to design the building envelope to a suitable high quality for passivhaus architecture. This high quality of building envelope is what all architects should be aiming for now.
A number of successful projects, including the ones presented in this book, prove that it is possible to create sophisticated architecture to the Passive House standard without extra effort or expense… The argument that this limits imagination and takes away artistic freedom is the feeble excuse of all those who refuse to get involved with the creative aspects of this subject matter.
In the anthropocene, the world needs architects to engage in designing high performance building envelopes. The world needs architects to engage in designing passivhaus architecture. This book is an excellent guide.
All images from the book, "Passive House Design." Images can be clicked to enlarge.

To purchase a copy of this book I highly recommend supporting your local independent bookshop if possible or purchasing direct from DETAIL Green Books. However, if you do choose to purchase from any of the links on this site, Amazon will pay me a small commission (at no cost to you) which will support this site. You can click on the image above to go to the Amazon page for the book, or visit my Passivhaus Books page for more information about this book and other passivhaus books.
My thanks to de Gruyter publishing / DETAIL Green Books for providing me with a review copy of the book.