This blog post is a review of "American Passive House Developments" published in 2012. It is the third book of Passive House case studies from the US that author Mary James has published.
The previous two books explained the Passive House approach, detailing nine pioneering U.S. case studies (2008) and showcased ten Passive House projects from a wide range of climates across the U.S. (2010).
This third book, "American Passive House Developments", explores how the passive house movement in the U.S. has scaled up and expanded beyond the single-family residential sector. It contains seven case studies, covering large multifamily, mixed-use, and commercial buildings.
These are important case studies. These projects are the forbearers to the explosion of Passive House current happening in the U.S., including the Passive House residential high-rise for Cornell University. As Mary James points out in the Introduction:
[The clients] have been willing to be innovative, are concerned about the future, and know that they will own their buildings for multiple decades—and be paying the electric bills. The fact that these projects were built at a small cost premium, if any, over conventional construction made the commitment to PH [Passive House] a choice 
with very clear-cut benefits.
"American Passive House Developments" is an excellent guide to a selection of seminal Passive House buildings in the U.S.
The book starts with a Foreword by Bronwyn Barry, Director of One Sky Homes, and prominent Passive House advocate in the U.S. Her piece looks specifically at the challenges of Passive House windows in the U.S. – both technical challenges and market challenges. Things have moved on from when this was written in 2012, but the information is still valuable, particularly for regions with immature Passive House component markets. And this is still true for many regions and for specific component sectors, even in the regions with more mature markets.
This is followed by an Introduction by Mary James. This gives both a summary of the content of the book and a summary of the Passive House (Passivhaus) Standard. The particular context is how Passive House has been developing in the U.S.:
The PH approach is not rigid, because each climate presents different challenges for the PH consultant, designer, and builder. Together, their solutions provide a toolkit of examples for those who are constructing very low-energy buildings— including net-zero-energy buildings—in the diverse climate types found across the United States. This approach is a critical tool
 for architects, builders, designers, and tradespeople to have in their tool belts.
We can learn something about Passive House, and it's development in the U.S., from each of the seven case studies in "American Passive House Developments". I have selected three standout case studies to take a closer look at for this review.
Students in the Haus
The first standout of the Passive House case studies is TerraHaus, a student dormitory designed and built by GO Logic. It is a compact 2-story building with mainly living spaces on the ground floor and bedrooms on the first floor, housing ten students.
Several Passive House projects by GO Logic have impressed me and this case study offers a closer look into how they put their buildings together. Go Logic is run by architect Matthew O'Malia, who has an advantageous German architectural education, and general contractor Alan Gibson. Being able to both design and build the project gives them some distinct advantages, and they are able to combine the best of German and U.S. Passive House design and construction technology.
They decided to adopt German technologies that would help them to make good Passive Houses, but to combine these technologies with familiar construction techniques. As O'Malia says, there are some construction methods and materials that we just don't use here in the United States, and it doesn't make sense to try to import them, while other technologies – such as windows and ventilation systems – are easily importable. Importing the windows directly, rather
than going through a distributor, has helped to keep O'Malia's
 costs down…
GO Logic's previous Passive House project was a small rural house and there are some similarities in aesthetics and design approach. The case study goes into generous detail of the construction methods and technical aspects of the building envelope – right down to how different assemblies are taped to be airtight.
The specific challenges of a student dormitory are addressed – increased hot water demand for all the hot showers and the increased indoor humidity that results, for example. It is fascinating to read how these technical and operational details are resolved, and proven successful through monitoring.
Building plans, construction details, along with photography of the construction and the finished building complement the text to give a detailed understanding of the project.
GO Logic's TerraHaus is a good example of successfully combining U.S. knowledge and skills with the best of appropriate German Passive House Technology.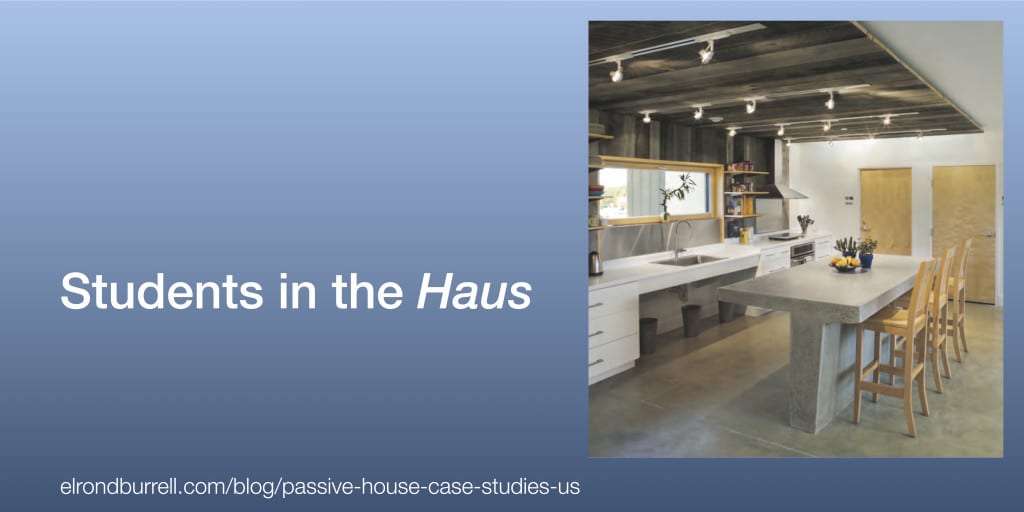 Lessons Learnt in Santa Fe
The second standout of the Passive House case studies is The Balance House, a mixed-use office and residence in Santa Fe, New Mexico. This is particularly interesting because Santa Fe has a high desert climate, it was the first Passive House by Jonah Stanford, then of Mojarrab Stanford architects (MoSA) and it is a mixed-use building – a recipe for plenty of challenges!
One of the challenges was that the design allowed for relatively high passive solar gain, as is common to the regional vernacular. This is a common misunderstanding of Passive House, particularly by people more familiar with the Passive Solar Design approach. The high-performance building envelope of Passive House, combined with the accuracy of PHPP in predicting performance, that takes account of both solar gains and internal heat gains, means there is much less need for reliance on solar gains. And with this, of course, much smaller internal temperature swings and less need for thermal mass.
In this case, the form of the building, the over-sized south-facing glazing, the excessive internal thermal mass that retains heat all added up to too much heat. Luckily, a solution was found that both works practically and adds to the aesthetic of the building: light, tensile fabric shades. Unfortunately, there were still some issues to be resolved that were out of the architect's hands at that point:
Adding to the complexity of the design process were the neighboring buildings that haven't gone up yet. Stanford had to design the Balance House assuming that the adjacent lots would be fully developed with structures that reached maximum allowable heights. In the future, the eastern facade of the Balance House is expected to be shaded by its neighbors.
There are other fascinating lessons from issues with the air barrier to keeping ventilation and heating systems separate. The case study also touches on the practice's second Passive House project, The Volkshouse, where they have been able to put what they learned on Balance House into practice.
Interestingly, one lesson they have taken to heart is not to attempt to get to zero cooling:
After putting his first PH design to a year-long reality test, Stanford has made a few changes in his approach 
to constructing PHs. Previously he and his partner used
 to design buildings that wouldn't require cooling. Now 
they have realized that it is far more efficient to design structures that need a little bit of cooling and a little bit of heating rather than just a lot of heating. For that reason, 
they are reducing the amount of insulation installed under their slabs to reconcile heating and cooling demands in 
their climate.
MoSA's progression from Balance House to Volkshouse is a good example of reconciling the specific local climate and Passive House.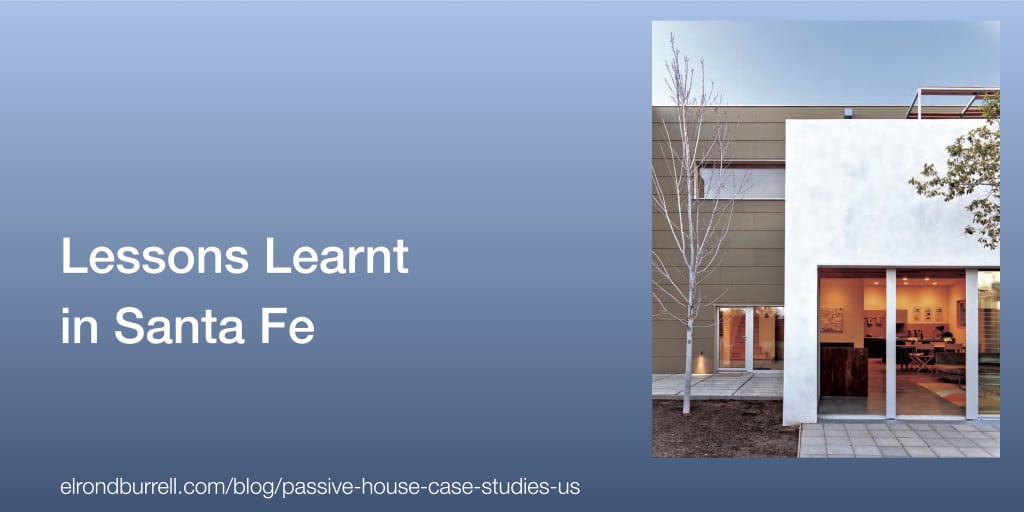 Modular + Multi-family
The third standout of the Passive House case studies is of two projects in Philadelphia, Pennsylvania by Timothy McDonald of Onion Flats. Like the first case study above, Onion Flats both design and build their projects, while also being a development company. The two projects are a 27-unit market-rate town house development and a 3-unit affordable housing town house project. Despite utilising the same modular off-site construction, the two projects manage to be visually quite distinct.
The long rectangular modules each comprise an entire floor of a town house. The construction is timber frame filled with cellulose insulation and with additional foam insulation over the outside to get the required thermal performance. The off-site construction includes the wall assemblies, windows and doors, floors, exterior and interior finishes and ceilings. Even the kitchen fittings and tile finishes are factory installed within the modules.
Does a modular construction approach go well with Passive House? The case study would appear to indicate that when done correctly they go very well together. Resolving technical issues of the construction process are clearly important:
All the connections between the walls, floors, thresholds, and windows in a module are sealed in the factory, but the joints where the modules connect to each other are sealed at the site. Getting these joints well sealed is a critical step in creating an airtight structure. In preparation, the siding and rigid insulation are left off at the factory for a foot or two around each joint in all directions, leaving the ZIP sheathing exposed. Once the modules arrive at the site, the crew tape and seal the joints between the adjoining ZIP panels, and then complete each layer of missing insulation. Finally, the gaps in the exterior siding are filled in.
The case study goes into some detail of the intricate and innovative engineering approach taken on the projects, a lot of which was developed by the team at Onion Flats. For the engineering and many other aspects, the specification is consistent across both projects. For the windows, however, they choose instead to run with a different supplier for each project since costs and specification details were very similar. It would be interesting to know what lessons have been learned from experimenting with the two suppliers, but it wasn't known when the book was published.
These two projects by Onion Flats show clearly how modular and Passive House can go well together.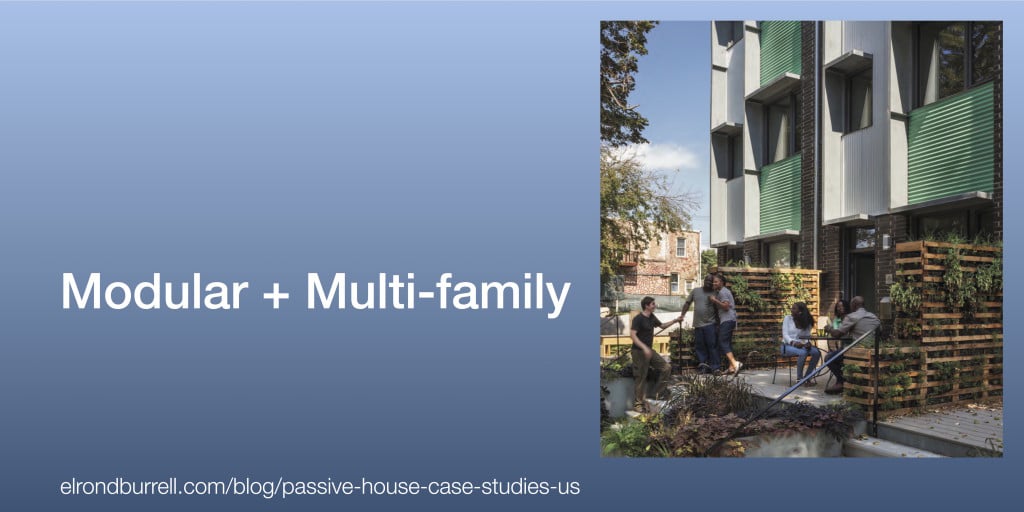 Seminal Passive House Projects from the U.S.
The case studies in "American Passive House Developments" are all important and valuable contributions to the development of Passive House in the U.S. In addition to the three featured in this review, there are other educational institutions, two important retrofit projects and a building with a commercial kitchen – all with important challenges and lessons available to learn from.
This is the power of the global Passive House community – new challenges are taken on with relish and then the hard-won lessons are shared for all to benefit from. And while architecture must change in the Anthropocene, the architecture and construction industry also needs to change. The courageous open learning and sharing of the global Passive House community sets an excellent example that the wider industry could benefit from emulating.
"American Passive House Developments" makes an important contribution to the knowledge of the global Passive House community.
All images from the book, "American Passive House Developments." Images can be clicked to enlarge.
To purchase a copy of this book, please visit the Low Carbon Productions' website. For other Passivhaus books, including my reivews, please visit my Passivhaus Books page.
My thanks to Mary James / Low Carbon Productions for providing me with a review copy of the book.
Passivhaus in Plain English & More is now on Facebook! Visit & like our page to stay up-to-date with our facebook postings. Please share our blog posts with your Facebook network.